For decades, natural clay siding was one of the trademark looks in the American Northeast. It's hard to think of a world where you didn't see classy Colonials done up in clay, or a Cape Cod-style home that didn't have a clay siding look. This trend has become so popular, it's now a national trend.
Clay siding color combinations make it possible to get a stately look that also offers a warmer appearance to your home. Neturals are in, but how do you style this siding color? We took a look at the hottest trends to find out.
1. A Classic Colonial Home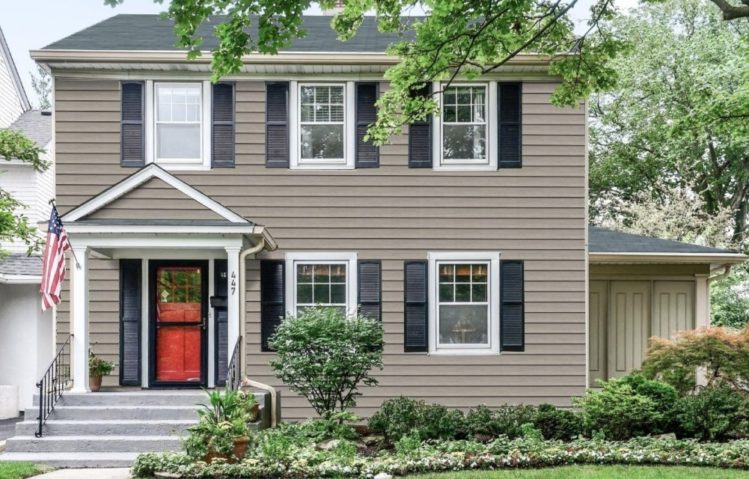 Did you know that adding black shutters and a black door will increase your home's value by as much as 10 percent? It's true. Black and clay remain one of the most popular home exterior color combinations, especially when aided by a red door and white trim. It's an effortlessly upscale look that won't hurt your budget. Does it look "Coastal Elite?" Absolutely. Does it cost an elite amount of cash? Nope.
This elegant craftsman home has natural clay siding and also features one of the easiest natural clay siding color combinations on the market. This entire home is done in a monochromatic brown style. The roof is a medium brown, the siding is a light brown clay hue, the garage doors are a rich dark brown, and the trim is white. The end result is a warm home that looks coordinated and multifaceted.
Natural clay siding is something many people associate with brown or black roofing, but it doesn't have to be that way. This beautiful Colonial home has slate grey roofing that helps add contrast to the warmth of the clay siding. It also adds a pop of color thanks to the blue undertones. It's unexpectedly chic, and works well with the house's design.
Natural clay siding color combinations are great to look at, but it's important to remember that there is a certain amount of architecture that you have to plan out. Here, we see a Victorian home that boasts natural clay siding—a truly classic combination around parts of the Jersey Shore, all the way down to Annapolis.
It's simple, and sweet. The golden brown roof and brick accents help bring home the feeling of a beach house exterior, don't you think?
5. White Trim, Classic Win
It's hard to ignore how all-American a natural clay siding exterior looks when paired with lots and lots of white trim. Here, we see it in action, coupled with barely-visible brick for the basement portion of the home. White is a great pick for this siding color, which is why it's currently the most popular natural clay siding color combination in existence.
Believe it or not, natural clay siding is a perfect backdrop for a home design that offers petite pops of color in the trim, shutters, and details. Here, we see homes that feature artsy red window trim, a little bit of green as part of a roof's gable, and small touches of cream throughout the house. It's these small touches that make this home so unique and endearing. You can just tell that an artist lives here.
Another major touch here are the stone pillars. The different stones help add a nice amount of texture to the home's exterior while also adding a wider array of colors to the home's palate. It's a good way to make your home look colorful without it being too heavy-handed.
Sometimes, it's not the color combinations that make natural clay siding so appealing. Rather, it's the fact that clay siding is great for showcasing different siding textures. Here, we see the depth of regular Dutch lap siding paired with honeycomb siding accents for the gables. Tying it altogether are some matching shutters in a farmhouse style, also in clay.
Like other houses on this list, there are white and black accents added to the home. This helps make the house look a little more geometric and avoids the "clay mass" that can happen if you do too much neutral overkill. It's a simple way to help add a little division to a home without it being too much.
At first, you almost want to do a double take looking at this house, don't you? You're not alone. This house decided to take one of the greatest natural clay siding color combinations and turn it on its ear. The trim is white, yes, but the white is outlined with a black gutter system that makes it look like the house has a trim over the trim.
Do you like the idea of having a house done up in neutrals, but don't quite want to get a full neutral experience? Then you may want to get something along the lines of what this homeowner did. He had a grey roof, clay siding, white trim, and shutters that carefully walked the line between grey and green.
It's subtle. Very subtle. But it's there and it makes a great addition to the home's overall exterior. When you take a look at the house as a whole, it just looks that much more elegant.
Did you know that there are now homes that use paints and treatments to put a natural seamless clay veneer over regular siding? It's not easy to do, but it has been done before. The seamless look is definitely in, especially when it comes to contemporary housing. It just looks flawless in that almost-surreal type of way that perfectly lined homes do.
Overall, it's clear that clay siding is one of the most popular colors on the market for a reason. Natural clay siding is reliable. It looks warm, modern, inviting, and yet, it doesn't really make a statement that would be jarring. No wonder why people love it!