Are you looking for a siding color that is elegant but unique? It may be time to step away from the common trend of neutrals to seek out some serious color. You're not alone when it comes to feeling tired of seeing neutral after neutral in homes. It gets boring, you know.
Tuscan olive siding is starting to gain traction, particularly in the Northeast and the suburbs in the Southwest. This gorgeous shade of green is earthy, elegant, and does offer up a little bit of Italian charm. You'll love it, but you still need to know how to style it. Our inspo pictures will give you a good idea of what to do.
1. Green And Brown Craftsman
This is about as New World Italian as you can get. The Craftsman-style home has architecture that adds even more decadence to the rich color of Tuscan olive siding. To help bring out the rich green of it, the designers added brown accents via the garage doors, roof, and stone wall.
This brings us to our next point. Certain forms of architecture take better to this siding color than others. Cottages, Victorian homes, and Craftsman homes definitely come to mind. The more woodsy and artsy the home is, the more likely it is that this will be a good siding color to choose.
2. Green, White, Grey, Tan
If you loved the Craftsman home's look, but want something a bit more light, check out the color palette used on this home. This takes a similar cue as the Craftsman home, but replaces brown with light beige or tan stone accents and a lighter grey roof. It opens up the home and makes it look larger.
Truth be told, most designers are going to stick to a palette similar to this one. It's an easy way to style up any home that doesn't have a neutral look to it. Since the rest of the color pallette is neutral, this also is a good choice for people who may want to paint their exteriors later on, too.
During the Victorian period, homes were often painted bolder and brighter colors. If you want to take a page from the history books, you absolutely can by painting your home a rich green color or adding Tuscan olive siding. It may not have been as common as white for home exteriors, but it's definitely old school.
We suggest using this on Victorian homes with gingerbread-style trim. It ramps up the authenticity and also makes your home look like a Christmas village display during the holiday seasons.
Is it us, or does this house *really* emphasize the contrast between the white trim on the windows and the Tuscan green siding? It's definitely a strong contrast—one that seems to be encouraged by all the landscaping that surrounds the home. Overall, we get the feeling this person loves showing off this color.
Green is the opposite of red on the color wheel, which means that this combination maximizes the contrast that you find. Here, we see a home fully decked out in Tuscan olive siding with shake shingles. It's complemented by a reddish-brown roof and red accents around the windows. It's bold, beautiful, and really well-executed.
Om a similar note, can we talk about how pretty Tuscan olive looks like on shake? It's a truly phenomenal pick, especially for homes that are trying to achieve a cabin feel like the one above.
The white trim here didn't surprise anyone. Tuscan olive looks great with white. But the beige trim inside the white? And the matching window shutters? It adds dimension and also helps bring out a grounded, earthy ambiance to the home's exterior. Beige is a great pick to help warm up green—though olive doesn't need much help there.
Green of any type can often be enhanced with the addition of a blue-based neutral like grey. This home emphasizes a very striking roof color. To balance things out, the designers worked with a classic trim color: white. The end result here is a simple, traditional home with a nontraditional color.
8. Hazelnut Roofing With Tuscan Olive Siding
Tuscan olive siding definitely can be difficult to style. It's not like neutrals which are colors that literally go with everything. A good choice for people who want the elegant look of Tuscan siding is to balance it with a hazelnut rooftop color. The richness and redness of the roof helps add a contrast to the home that ties everything in well.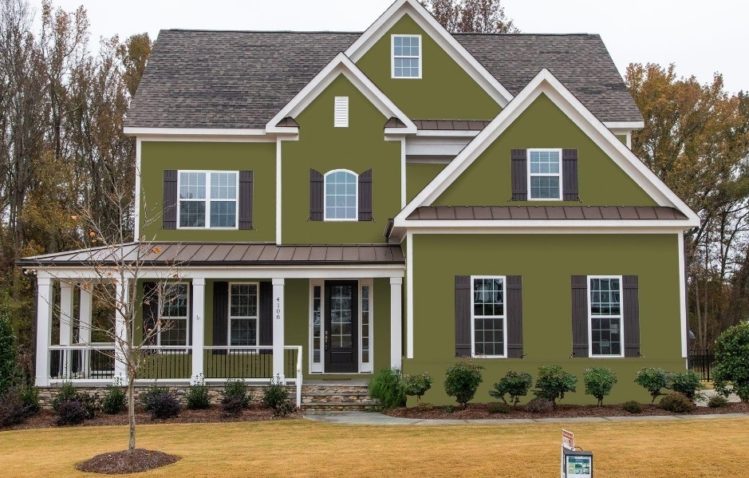 Tuscan olive siding can be provocative, especially when paired with some fine details that keep you guessing. This home has a grey shake roof with a slightly grey-brown lap roof for the window and porch overhangs. This change in texture switches things up and also helps add a more modern touch to the home.
10. Green On Green Shutters
Love the look of a brown roof but want to add a little bit more monochromatism? One way to make this home's color work is to add dark green shutters and accents alongside write trim. This gives the home a modern monochromatic look that doesn't dial up the contrast. Instead, it adds a little extra harmony.
This neo-Victorian home also has subtle touches of cream along its trim. The cream helps add a warming look to the home in a way that regular white might not have. That level of subtlety is what works so well here.
Overall, Tuscan olive siding has a lot to offer the right homeowner. No one can argue that it isn't a trendy and eye-catching color for a home. But, styling still matters and that's going to be the biggest hurdle you will need to face if you want to make it work. It's up to you to style it, mix it up, and match it with the type of home decor that you want to have.