Gables have been a cornerstone of American home design for ages, but that doesn't mean they're easy to work with. This architectural feature can be a pain to design around, and gable roof ideas are not easy to come by.
Need a little inspiration? Just some help? Our shed roof and gable roof design ideas will help you get the ball rolling.
Here, we see one of the cooler (and more contemporary) gable end design ideas on the market. Here, the whole house is painted in blue and grey. The gables are painted in grey to help accentuate their appearance and give the home a new "pop" of color.
Gable design ideas don't always have to be flashy and wild. Sometimes, you just want to highlight them in a subtle manner. This homeowner used different vinyl textures to make his porch gable and window gable stand out. It's simple, sweet, and easy to mimic using a wide range set of sidings.

3. Mixed Gable + Hip Roof Homes
You know, most people love the look of a gable roof. This unique take on classic porch gable ideas usies the flat surfaces from a tower with a hip roof and the top of a gable roof to create a one-of-a-kind porch. It offers shade, but trust us, no one would throw shade at this design!
There is something truly elegant about greyscale homes, isn't there? This gorgeous home uses grey gables, white trim, and a black roof to create a gorgeous greyscale look to their home's exterior. How chic is that? The best part about this is that people get to enjoy the sleek, modern look of a monochromatic exterior.
Gable design ideas often seem to hinge on the idea of making gables stand out from the rest of the home, but sometimes, this is not the brightest move. Here, we see the majority of the house match the siding of the gables, with a small divide where the basement is. It helps give the home a uniform yet modern look.
Sometimes, gable design ideas aren't so much about getting a good texture or making the home's color look unique. This home chose to paint the facade (gables included) with a beautiful robin's egg blue. Cute, right? To get the full look, make sure to mix warm colors (such as red stonework) to the facade's palette.
7. White Dividers, Farmhouse Look
Here, we see a cute take on "farmhouse chic." A deep red home siding look is paired with white trim around each of the home's front gables. The end result is a more rustic, farm-y look that also keeps things looking clean.
If you aren't sure what to do with a rustic home, check out one of the most popular classic porch gable ideas we found. Gables that are done up in a dark color look amazingly pretty with a white trim contrast. Like the home above, this house's color scheme gives it a beautiful country home look.
Gables usually involve displaying windows in a way that make it clear you have them—often smack dab in the center of a gable. Here, the designers chose to "hide" the top window, giving it a cheeky, almost discreet look. If you've ever wanted to have a place you could peek out of, it's clear that this home has what you need.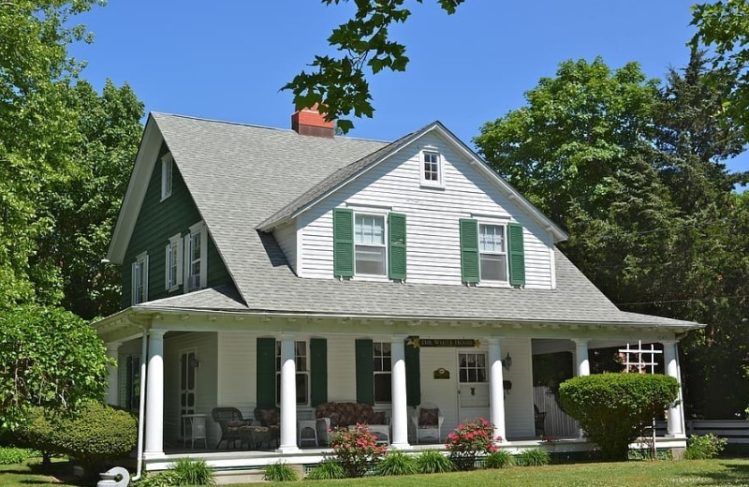 Are you looking for a way to make your gable design ideas truly pop? This home designer painted the gables two different colors (green and white, depending on the house face). Then, they used green and white shutters to offer contrast and tie the look together.
Most gable design ideas use a trigonal look for gables. Here, we see stone pillar facades cut into the gable's siding. This gives each gable a pentagon shape that's further sectioned off from the rest of the house. It's a modern take on an old-school roof design.
Grey home, grey roof? Out of all the shed roof and gable roof design ideas we've seen, going for a matchy-matchy look for the exterior and roof is one we didn't expect to like so much. The white trim offers a division between the two elements, so it's not too dark. We're also big fans of the heavy shading that these extra-large gables offer.
If you are a fan of English cottage designs, then you already know how nice a light grey roof looks with white gables and gold accents. Here, we see this idea in its full glory—complete with a matching shed!
14. No Windows, No Problem
Did you ever notice that larger gable designs often have a window added to them, even when there's no need for it? This designer decided to flout that trend, allowing the gable to turn into a focal point of this beautiful ranch home. This is one of the most popular gable design ideas for garages in the Midwest right now.
Everyone is always using white as a trim color, and we can see why. White is popular, easy to clean, and a neutral color. But, it's not the *only* neutral. This house's gables look beautifully framed thanks to the use of a warm cream color. This makes the whole home look more inviting and approachable, not to mention more unique!
In the Victorian Era, homes that were elegant tended to look like Gingerbread houses. This was a style that involved "wafer" siding on gables, pastel colors like egg yolk yellow, and occasionally having a small gable over the porch with a cute design.
The home above shows an excellent example of gingerbread architecture and design. It's coming back in style. Perhaps that's why it's considered to be one of the best gable design ideas in history.