There's more opportunity than ever to get ahead in the construction industry. Building materials dealers have a few tools for finding new customers, but the key is finding builder contacts who can actually help dealers grow their business.
Dealers can (and should) nurture their existing client relationships, but there are a few strategies that can help you find new business and diversify your pool of contacts.

1. Set Time Aside for Research
You can start the process of building your potential client list by doing some research, both on and offline.
Ask friends and relatives about which local builders they've worked with.
Check out the real estate section for any ads. This will tell you which builders are the most active in your local area.
Talk with any realtors in your network to find out which builders they're familiar with.
Dealers can also try searching for builders online through sites like Home Advisor. If you want a builder that specializes in green construction, you can also try searching the Passive Home's database of PHIUS-certified builders or the Zero Energy Home Builders database.
Dealers should also take advantage of the existing relationships they have with any building materials companies they work with. Companies like Allura have sales representatives dedicated to helping dealers grow their business by sending them potential customers (or leads).
Once you get this initial list of builders going, you should add all relevant contact information for them in a customer relationship management system (or CRM), if you don't already have one.

2. Start Building a Library (for Builders)
Once you have a database for those contacts, you can start building a library of content and resources for them, and then keep those resources on your website. Those resources, however, need to be specific to your builder audience (or the audience you want to grow).
"A common complaint among builders is that salespeople don't have the proper knowledge about their building material products," writes Zach Williams for Venveo, a building materials marketing firm.
"You can stay on top of things by determining what questions they need answered," Zach explains further. Venveo published the Builder Marketing & Research Report to get some insight into builders, what questions they're asking and what they want from the dealers they work with.
The top things builders want from dealers included:
Quality and performance of building materials
Customer service and reliability
Product availability and cost
Compatibility with other materials
PRO-TIP: Find out what questions builders are asking —and then provide the answers — and you'll set yourself up for success. What's more, you'll start to see what kind of content you need to create … content your builder audience actually WANTS.

3. Focus on Creating Optimized Content
"Your website should be well-designed, with a great user interface, and all the technical stuff that makes your site rank in Google should also be covered," writes Marieke van de Rakt with Yoast. "But without good quality content, your site does not stand a chance in the search engines."
Search engine optimization (SEO) is how you make your site worth finding. There are entire books and courses on SEO, so it's worth exploring further, but you can implement a few strategies so your site pops up when builders are searching.
"Every content SEO strategy should begin with keyword research, because you have to know what your audience is searching for if you want to generate traffic. Keyword research helps you to discover the terms you should be aiming to rank for," writes Marieke with Yoast.
Once you've got your keywords to rank for, you can create content around those topics. Think about what your builder customers might search for when they need products like yours, then give them content so they get the answers they need.
Include those keywords in the content on your site, but make sure it's worth reading! "Readability is about many factors, including text structure, sentence length and writing clear paragraphs," says Marieke.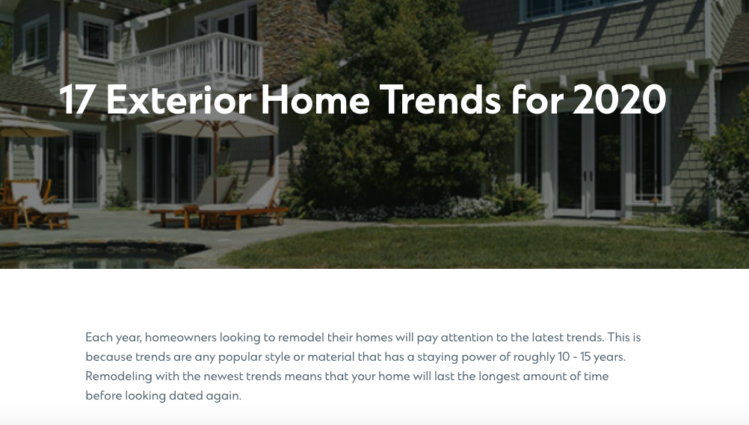 So it's important that you don't just post a blog with keywords used repetitively throughout. Not only does Google penalize for keyword stuffing, but builders will stay away because they know you aren't providing value.
Instead, give your builder audience information they can put to use. Give them content they'll be able to work with: information about your products, technical specifications, warranty details, industry news … and lots of images.
If you can give builders visual content that helps them understand how your products could work in their project, you'll win some big credibility points. If you need a few ideas for visual content, you might try the following:
Detailed, high-quality product photos
Installation project photos and videos
Product comparisons
How-to videos or animations that demonstrate your product
4. Harness the Power of Email
Once any visitor is on your site, you'll want to make sure they have a way of staying in touch with you (and you with them).
Email makes this kind of communication possible, and that's what you're after. A great way to collect email addresses from new visitors is by offering free downloadable resources in exchange for their email.
Whether that's an installation guide for your product, a project checklist or an e-book on building code compliance, what you're sending them should be worth the exchange of their personal information.

Once they've given you their email address, you can also stay in touch through a newsletter or follow-up email campaigns. Thank them for connecting with you by giving them reminders about your products, sharing relevant industry news or offering discounts to them.
5. Get Social Media Savvy
Dealers can become even more of a resource for builders and establish rapport with an online audience easily through social media.
Being active on social media platforms like LinkedIn, Facebook, Instagram and Twitter is a great way to stay engaged with builders and other potential clients. Plus, having a presence on these platforms also makes your company feel a bit more human.

And it's that personal touch that makes an online audience more likely to stay connected with you. Social media helps businesses reach a much wider audience, and dealers can nurture those connections by sharing the right kind of information on social media. Here are a few ideas you might share:
Relevant content from your website (blogs, downloads, etc.)
Trade shows and industry events
Content from established leaders in your industry
Project ideas and inspiration
Updates on your company and products
Videos or photos of current projects
Discounts and giveaways
And if you're wondering how often to post on these platforms, you might try testing out one or two posts a week on each of them to start, and then increasing from there. While there's not necessarily a correct answer, you should post consistently enough so that you're in front of (and regularly engaging with) your audience.

Build Growth Into Your Business
The construction industry has gone through significant changes in the last few years. Keeping up with these changes (and competitors) can make it a challenge for dealers to stay in business.
But technology has also evolved, and by using a few of the tools now available, dealers can more easily find builder contacts to help them better establish and grow their business. Here's to your success!

Check out a few of the other resources available to building materials dealers by clicking here.