Modern home design is beginning to take off in new and exciting ways. Even more traditional designs like rustic and farmhouse are beginning to take on more modern twists. If you're looking to capitalize on some of today's hottest trends, take a look at these seven ideas that are making big waves in 2016.
1. Waterfall Islands
The waterfall island counter isn't exactly new, but its recent surge in popularity certainly is. The waterfall counter really draws the eye and creates a focal point or statement piece within the kitchen, particularly if a more dramatic type of countertop is used such as semi-precious stones or a wild granite. Even in more sedate materials, however, the look is both bold and eye catching.
2. Metallics
The use of prominent metallics in and around the home is also becoming a very hot new trend. While metals have always been in use in home design, they're really getting their chance to shine by becoming intentional accents used in places meant to get attention. This includes metal tiles on floors and backsplashes, bold pendant lights in shades of brass and copper, and even bespoke appliances in the new, hot warm metal colors.
3. Board and Batten Siding
For the home's exterior, the hottest new look to get a lot of attention for all styles of home is board and batten. This vertical siding style adds a lot of interest and depth to the home, drawing the eye upward. As seen in this photo, the width of the boards can also be varied to add new dimension and some playfulness to the design as well.
4. Fiber Cement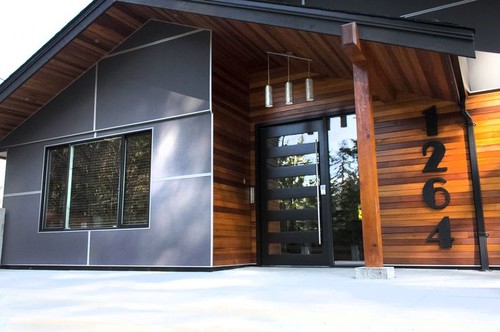 Whichever style of exterior cladding you choose for your home, the material of choice is fiber cement. According to Remodeling Magazine's Cost vs. Value report, fiber cement has topped the list for highest return on investment for the last several years running. Combined with its ability to come in so many different shapes, sizes, and styles including architectural panels and even board and batten, this makes fiber cement siding the go-to material for builders and homeowners alike.
5. Modern Industrial Accents
Regardless of what type of home you have, adding in a few modern industrial accents is a great way to up your design game. Industrial accents such as concrete floors, restaurant-style hoods or appliances, exposed ductwork and pipes, and an overall raw look to the home's interior are all extremely popular trends right now. The idea is to give your home the appearance of a converted industrial space loft, rather than a more traditional home.
6. Sustainable Design
Whether you like the look of modern design, or you want something a little more traditional, sustainable design is one trend that everyone can get behind. Sustainable design encompasses using both eco-friendly materials, such as reclaimed wood floors that have been used before, as well as using smart in-home appliances that use less energy to run each day. Included are also several ways you can make your home more energy efficient through the use of better insulation and new windows and doors.
7. Mid-Century Modern Details
Mid-Century Modern has been making an enormous comeback in popularity of late. And while this architectural style isn't exactly suited to every building or home, there are a lot of details that can be worked into numerous other design styles. Windows, trim, furniture, and materials can all be borrowed from this period and integrated into other home styles to get a fresh, updated look that is perfectly on trend.
Embrace Home Design Trends
While you certainly wouldn't want to remodel your entire home every year to reflect current trends, following up on some of the more long lasting trends and materials such as fiber cement siding and sustainable design can be a great way to improve your home in an enduring way.