Imagine the last time that you spent a blissful morning sorting through a pile of linen laundry. Think of the dusty white look of it, how nice and ethereal it looks when hung up as curtains, and how fresh it smells. That's the ambiance that linen colored siding offers.
Getting linen siding is a great choice for almost any home exterior design, but we're going to kick things up a notch. We're going to show you a bunch of different homes with differing color patterns and color palettes. The main star of the show in this article? It's the linen colored siding on each house.
1. Linen N' (Pretty) Things
This home has a lot of different patterns and textures and colors to see. The most obvious is all the linen siding that graces the front of the home. This pale, wispy gray makes it easy to see all the red and deep brown accents around the house trim. It also helps the gable coloring stand out in a way that would be fairly hard to do otherwise.
Admittedly, linen siding is a bit unusual to see on a cabin-style house. But here, we see that it can absolutely work out well as long as you style it the right way. The fishscale shake looks great and adds so much texture to the home. One might say it's overkill, but sometimes going for a maximalist look will work best.
There are very, very few architectural styles that take to linen siding color palettes like modern styles. Here, we see a swanky modern house with boxy architecture and thin linen lap siding throughout most of the house. Chances are, you've seen homes like this in the luxe parts of New Jersey, Long Island, and much of the West Coast. It's a hyper-trendy look.
If you want to go for this look, you can pair it with virtually any trim you want and still expect a good outcome. This shade oozes modernity and can help make a home look even more elegant than you thought possible.

3. Vertical Lap Does It Well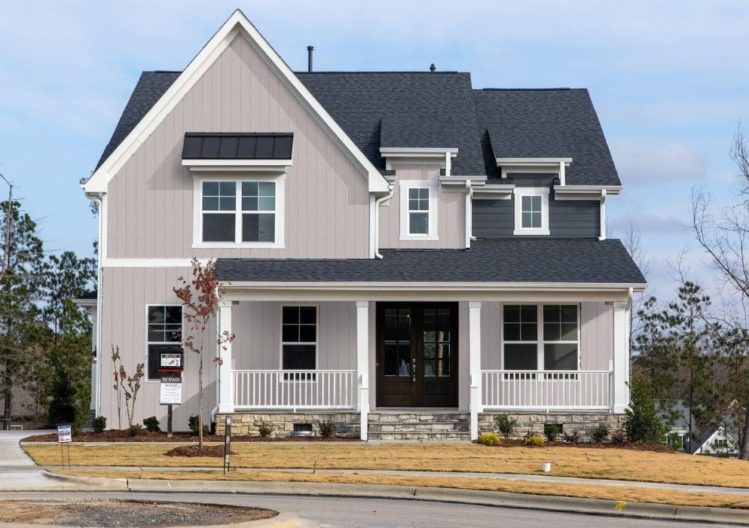 The cool thing about linen siding is that it can look blue-tinted with one roof color, but then can also look warm with another. The blueish gray undertones of this roof (along with the rogue Pacific blue siding on that one room) help bring out warmer tones in linen.
Here, linen looks like a true neutral. Since vertical lap adds a rustic touch to a home's exterior, this color actually helps make this home look like a modern rustic home. It's definitely farmer-friendly, in that "cowboy chic" kind of way.
4. Another Take On Blue-Grey Roofing
We want to point out that you don't need to use vertical lap siding to make linen siding work out for your house. In fact, it doesn't even have to be a particular type of home to make this work. Almost any type of architecture you could possibly have will work well with a linen exterior.
The photo of the house above is as generic as you could get. You could find a house like this almost anywhere in the country. And you know what? That popularity says volumes about this siding color.
Do you want to add a little bit of drama to linen siding? You absolutely can, and this neo-Victorian home shows us how to do it. Here, the roofing and window shutters are both colored black. The trim, however, remained a crisp white. This gives the home a very beachy look that somehow also looks old school. It's hard not to fall in love with it, no?
6. For A Southwestern Take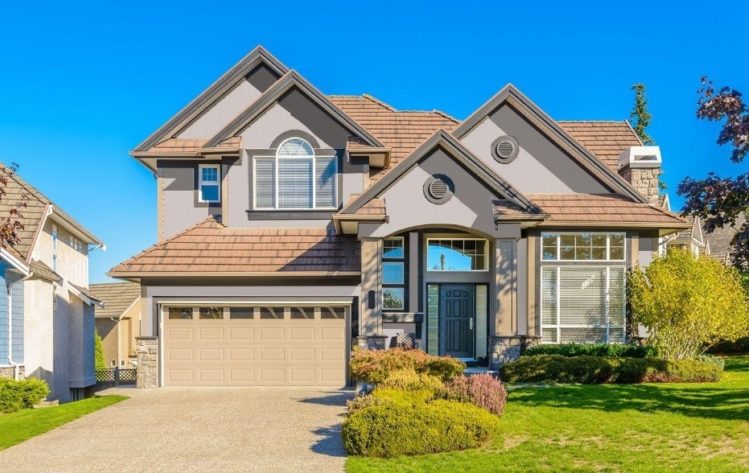 If there is one thing that the American Southwest loves terra cotta roofing. They also love unique Craftsman homes that add arches, decadence, and a lot of gables to the home's design. Here, linen acts as a good exterior color for a cooling touch to the outside of the home. It's a harmonious look that also makes the house stand out.
Are you looking for a way to make a contemporary home look way more modern? Add metal overhangs, black gutters, and linen siding for a brand new look to your home. This combination offers a lot of geometry, stark outlines, and high contrast for a bold, dramatic, and totally new look. It's a chic way to make your home stand out.
Linen siding tends to be a very popular pick for people who want to have a "foil" for a color that's bold and bright. Here, a surprisingly bright reddish brown roof takes center stage. The linen siding helps show how starkly bright the color is, all while keeping the home looking large, clean, and happily spread out over the lot. It's a gorgeous look that adds balance to the house's tall and prominent roof.
Linen siding color palettes don't have to stick to neutrals or bold colors to make a major impact. Truth be told, this is a great home siding color for people who want to have a house that feels cozy and "off the beaten path." This house's photo above is a good example of what we mean by that phrase.
Linen works well with this home because the pastel of the linen's neutral color offers a harmonious backdrop to the pale mint, pale sage, and ultra pastel baby blue. In other words, it frames the house without making it look too jarring. If it was any darker, it would make the house look dreary. If it is too light, it'd start to look cliche.
As you can see, linen siding is one of the best investments for people who want a neutral that looks chic with almost any style. Whether you choose Dutch lap, fishscale, shake, or a different siding altogether doesn't matter. This is one color that will be able to hold its own on the home design you want.