When gray rose to the top of the color charts several years ago as the most popular neutral, it was due in part to this dynamic color's many different shades and undertones. Gray can be light or dark, warm or cool, and can have multiple other colors at its base.
Adding just a hint of olive green to deep gray gives you a color like Plunge Pool; a rich, warm gray that has a lot of personality. While technically still a neutral, Plunge Pool is the gray you'll reach for when what you really want is something with a more dynamic edge.
Warm and Deep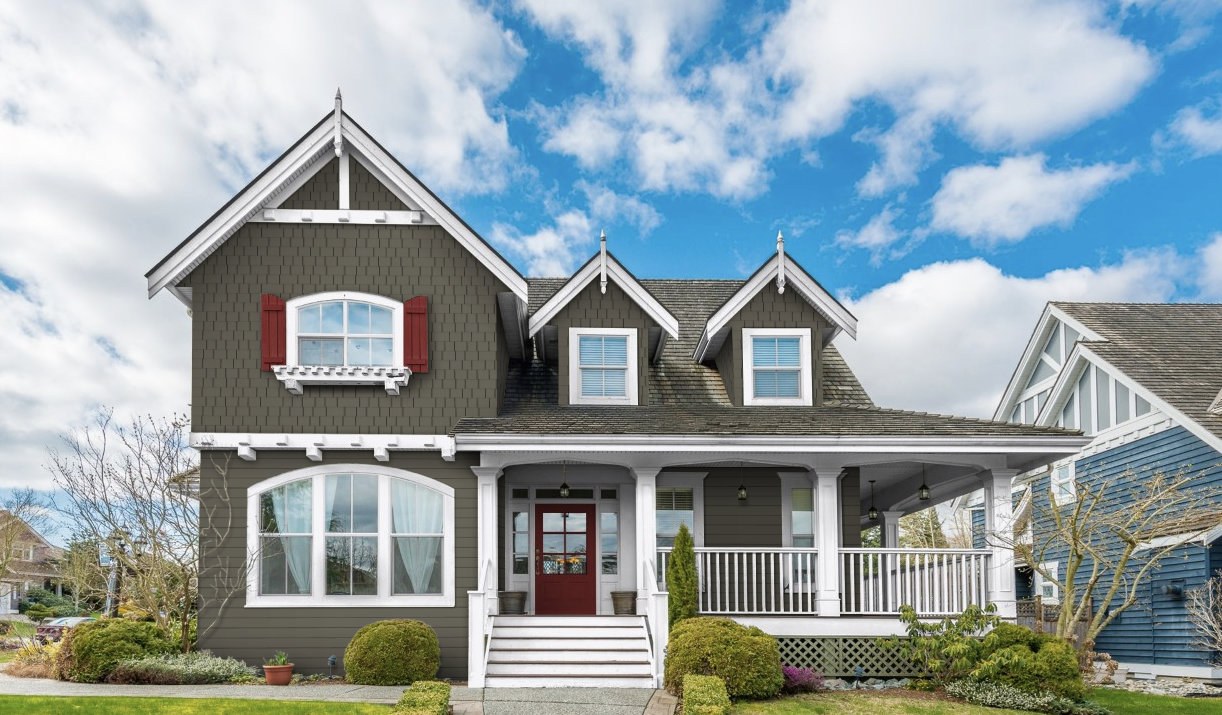 While the color gray has nearly universal appeal, not all of its shades are equally embraced by all. Some people prefer the color when it's lighter and truly neutral, while others prefer it to have a blue undertone.
Plunge Pool is for people who want their home to have a rich, warm, dark color that isn't in the brown or green spectrum. This color hints at its undertones, but it remains a neutral at heart. So, while adding it to your home will give it a very dark, rich appearance, it's not going to turn off people who dislike bold colors or those who prefer a neutral exterior. It blends the best of both, yet stands on its own as a shade with a lot of appeal.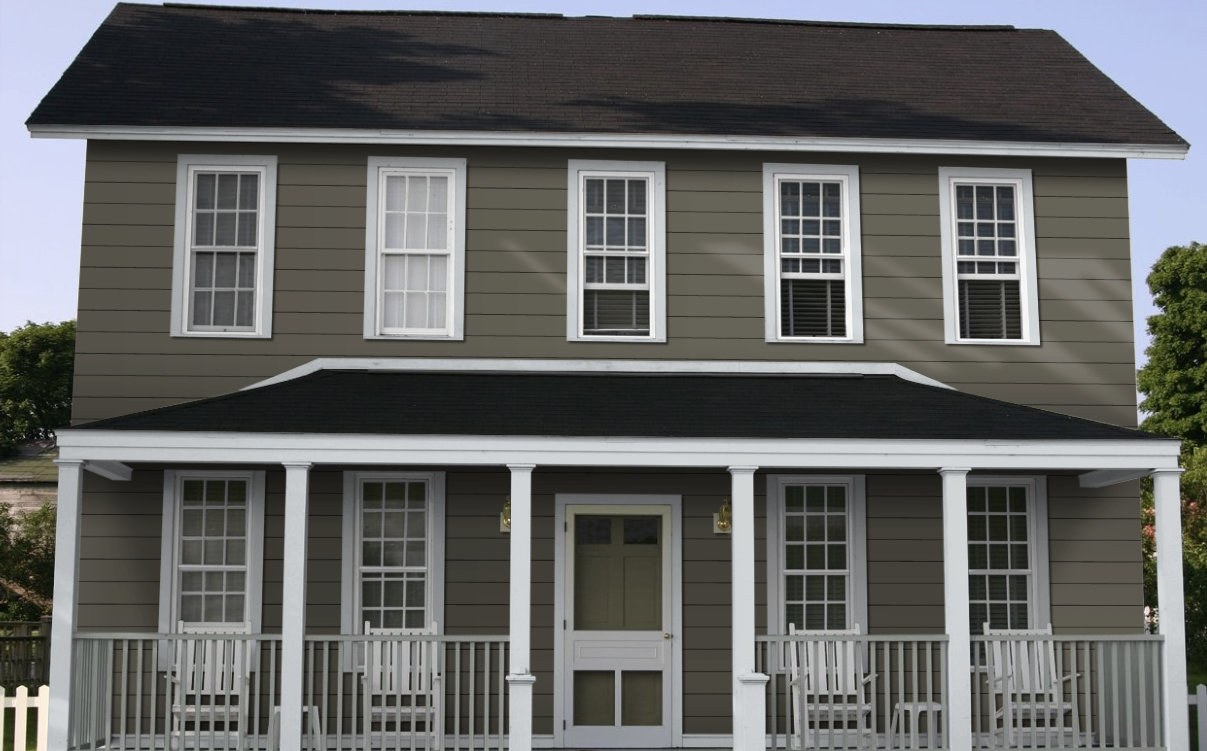 The color can also be played up or down depending on how it's complemented. Lots of white trim will help brighten the color slightly, while some darker accents or a more shaded hue would create a more somber appearance. This versatility lets you complement your home's surroundings as well as its features.
Diverse Accent Options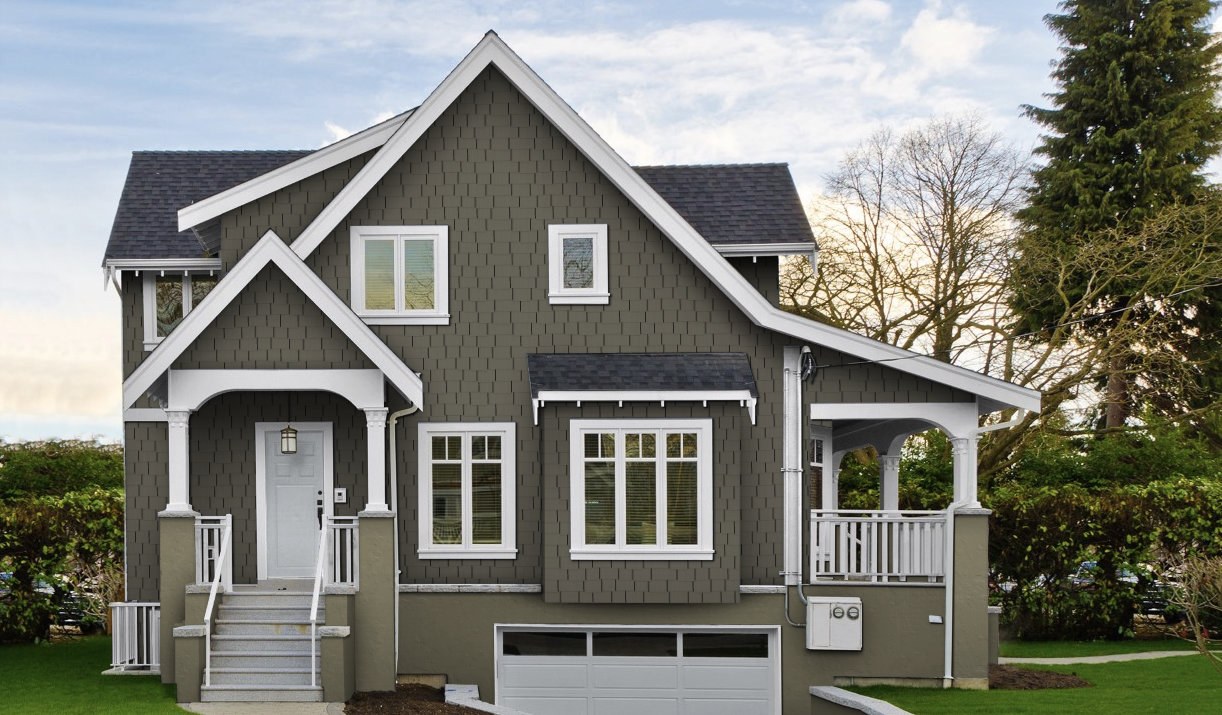 Your siding is only one part of your home's exterior; your trim, roof, doorways, and other accents all need to coordinate with the siding color. Plunge Pool works well with a variety of other trim and accent colors. It makes a nice contrast against white, as the cool white will stand out sharply against the darker siding. This can help highlight different parts of the facade.
The color also works well with other somber or Victorian colors, like brick red, navy blue, and other shades of gray. So a blue-toned gray roof can add some dimension and some contrast at the same time. Other tones that include a hint of olive green will also work well with Plunge Pool, picking up the green undertone in the siding.
Architectural Appeal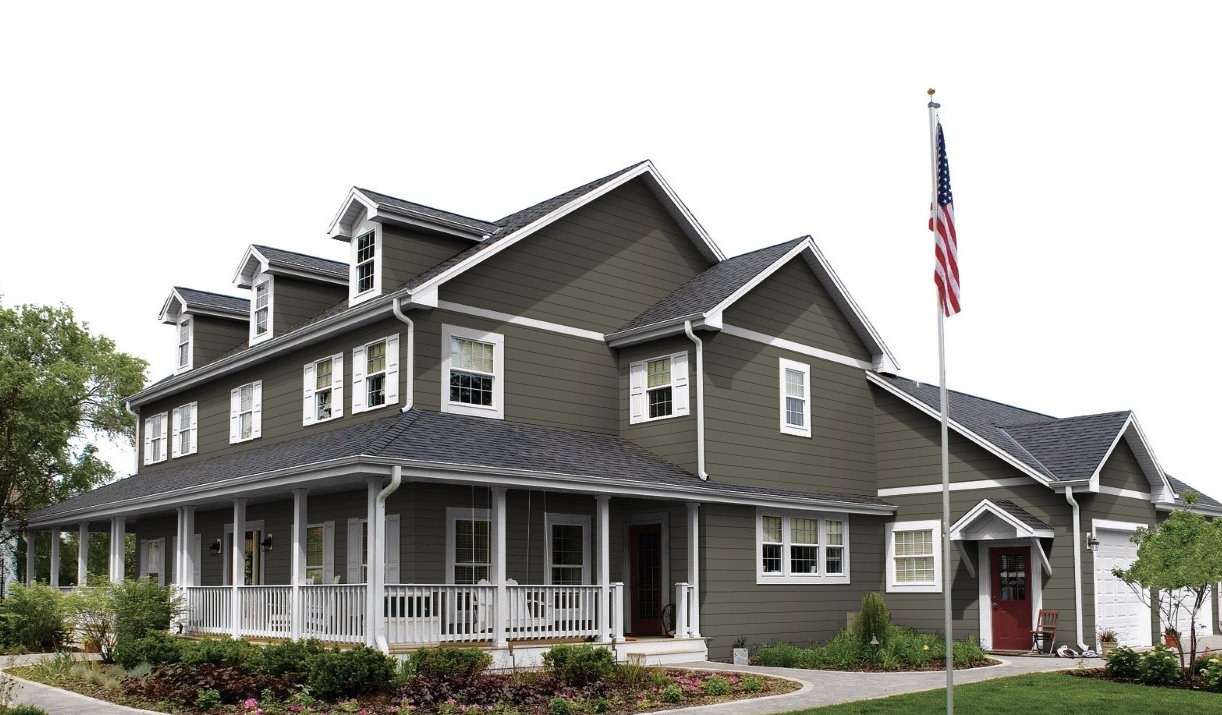 The dark color of Plunge Pool works best on larger and traditional home styles. The color has enough of a somber undertone for Victorians, and it would also work well on Tudor-style homes, as well as gambrels and other older and more traditional styles. This is because of the color's depth, which is better suited to homes with simple architectural accents.
This color also works well with larger homes because the darker tones help make the home feel slightly more cozy and inviting. While a home of the same size in white or a light color could feel imposing, the same size home in Plunge Pool would feel a lot more welcoming to the onlooker.
Regional Appeal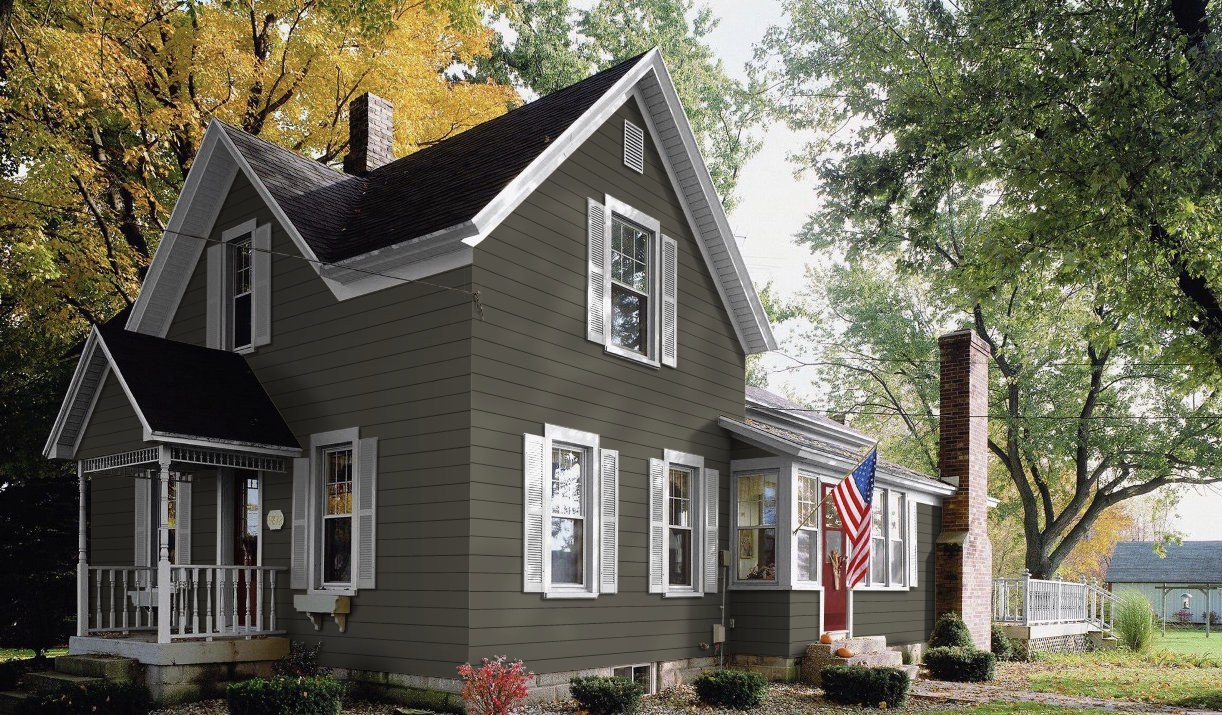 Dark colors like Plunge Pool are most popular in South where darker home colors definitely thrive. This isn't the only area where this versatile color would be appealing, however. Homes in New England where all shades of gray have found a place to shine, would also look great in Plunge Pool. The color would fit right in, and would also work with the more traditional architectural styles in the area.
Darker grays also have appeal in some areas of the Midwest. The key here is to find those architectural styles that can support deeper tones, such as prairie style, which would benefit from the hint of green in the undertone.
With that hint of green also comes the possibility of using the color in homes located in more rural settings or on properties with larger numbers of trees. Rural settings and homes set in the woods complement the color of Plunge Pool beautifully, letting the color hold its own, without becoming overpowered or washed out the way that a lighter color would.
Consider Plunge Pool
If you like the idea of a dark or gray sided home, consider using Plunge Pool from Allura. This versatile shade of gray has a lot of warmth to it, something that's not always found in the color gray. With the right accents and setting, you could use Plunge Pool to transform the look of your property into something welcoming, warm, and inviting. Whether you want to highlight a traditional home, or warm up a larger-sized house, Plunge Pool is the ideal shade to accomplish your goals. Consider Plunge Pool from Allura for your next project and gain this rich and versatile color for your home.