"Just visualize how great it will look…" homeowners and contractors are used to hearing this phrase a million times during the home design and remodeling process, but having a tool that maps out and illustrates your creative ideas can be an absolute game-changer.
An interactive exterior house color visualizer lets individuals experiment with different siding and trim options with the click of a button. The visualizer generates a near lifelike image of the unique selections so that you can have a virtual depiction of the home before buying and installing the materials. It provides much more than basic color comparisons — trim sizes, shingle shapes, surface textures, and more, can all be individually colored. The exterior house color visualizer gives homeowners a fantastic resource that can significantly enhance the design experience.
The Importance of Planning Exterior Materials
Not only can the exterior house color visualizer help homeowners pick and choose their favorite looks for a home, but it can also have a direct impact on their expenses. A home is one of the most important investments that you can make, which is why many homeowners aren't satisfied until they get the facade just right. After all, a home's exterior is often an expression of the personality and character of those who live there, and modern homeowners don't hesitate to change the exterior when things aren't exactly as they had imagined.
That's exactly where the exterior house color visualizer comes into play. Often, what we imagine is slightly different than the final result. By taking out the guesswork, the exterior visualizer can save homeowners an incredible amount of time, money, and worry. They will know precisely what the home will look like before it is complete.
This also gives homeowners the freedom to experiment with their ideas without a lot of risks. They may find that their fourth or even fifth idea turns out as the clear winner during the design process — without the expense of physically installing the first, second, and third attempts.
How Can an Exterior House Color Visualizer Help?
The most obvious benefit of using a visualizer is seeing how different colors will interact with surrounding elements. Choosing an exterior house color is much more complicated than picking out a pretty hue. Siding colors should coordinate with other parts of the home's exterior, like the soffit, roofing, door, and shutters. Still, it should also fit with the rest of the home's surrounding setting, like the driveway color, architectural design, and landscaping.
Using a visualizer also helps homeowners experiment with different shapes and size options. It covers different shake shingles and paneling layouts, too.
Finally, a visualizer can be an excellent way to familiarize yourself with the terminology of exterior features. For example, could you tell the difference between a dormer and an eave? If not, a visualizer can help you label the different parts of the home's exterior, which can significantly help explain the detailed designs of your dream home to a contractor.
Tips for Getting the Most Out of the Visualizer
Ready to get started with the exterior house color visualizer? Here are a few quick tips for getting the most out of this awesome tool: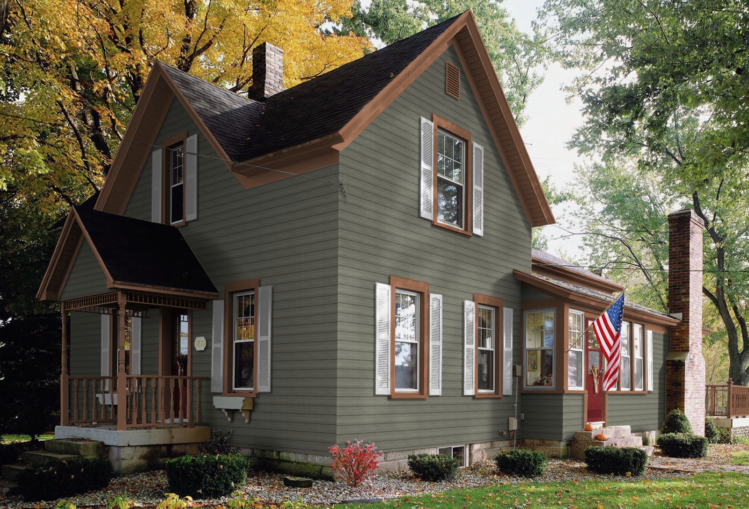 1. Experiment with Color Combos
Already set on a two-tone color palette? Think again! This is your chance to play with different color combinations and explore the options. Consider a three-tone composition, or try an alternative color for the soffit and eaves.
2. Try Something Unexpected
Have you considered vertical siding panels? What about a traditional lap instead of a smooth lap? Apply an option you have never considered before, just for the sake of experimentation.
3. Experiment with Surface Texture
Changing the surface texture can be an exciting way to switch up the home's exterior and achieve an altogether new look. For example, swapping a traditional lap for a stucco paneling might be the refreshment that your home needs.
4. Customize the Visualization Options
The color visualizer provides a wide variety of different home styles to play with, and there is an advanced upload option that can bring your ideas to life with more precision. Upload an image of your own home to see exactly what the options will look like!
If absolute accuracy is at the very top of your list, select the pro-upload option. This advanced selection enables you to send a photo of your home to the professional designers. They will then program the visualizer to precisely reflect the intricacies of your home's architecture.
The exterior house color visualizer from Allura allows homeowners and builders to picture and plan remodeling projects with more accuracy. Take full advantage of this awesome tool and explore the options!
Contact Allura today for more information on fiber cement styles that are a good fit for your home.