No home is complete without a set of perfectly fitted and stylish windows. Inside, windows allow light to enter and give a view to the outdoors, and from the exterior, windows add character and dimension to a home, particularly when they have been trimmed properly.
Trim is a crucial element to any exterior design. It helps to cover the cut ends of siding, creates transitions from one area to another, and gives the home a finished look. Window trim in particular needs to match the rest of the home's design while highlighting and accentuating the windows. If you're looking for a way to update your home's exterior, take a look at these 9 stylish exterior window trim ideas:
Contemporary homes need trim to complete the windows, but the trim can't be the focus of the design; it needs to emphasize the windows without introducing a separate design element. Flat stock trim does just that; it's clean, simple lines surround the windows and set them off from the siding. This lets the windows stand out, but without contrasting the rest of the design.

One way to make your windows seem bigger and to make them stand out more is to include false shutters in the design. Shutters were once needed for protection and energy efficiency, but they don't have the same use today. Instead, false shutters are fixed on either side of the window, giving it greater visual space and style. False shutters come in a number of styles and colors, as well as materials, so it's possible to match little details to the rest of your home's facade.

3. Monochrome Trim and Siding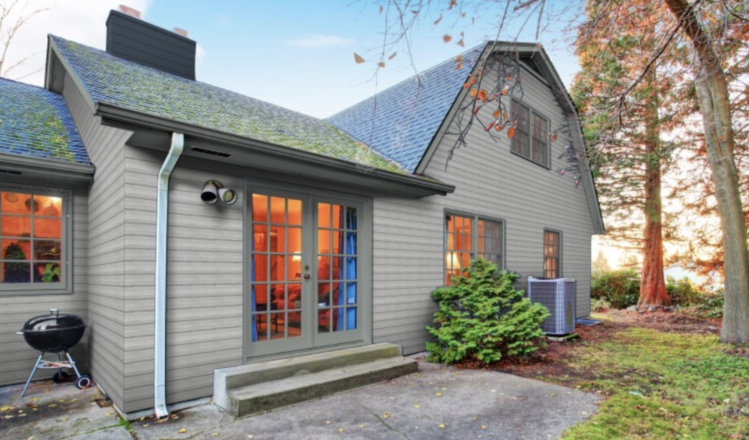 Trim doesn't have to be a contrasting color to your siding. In fact, for a more subtle look, you can use a trim color that's either the same color as your siding or just a shade or two different. This creates a monochromatic look that has a subtle, natural appeal. It lets other things be the focus of the design, and lets the windows become part of the background.

While many people opt for a light-colored trim to make their windows stand out, a more dramatic look can be achieved by going dark instead. Dark trim adds depth to the home, injecting some gravity into the design and giving the home a more formal and traditional appearance. The key is not to go too dark, however, but to stay within a few shades of what you already have so it doesn't look out of place.

Colonial-style trim has a more old-fashioned and traditional style than modern trim. It makes the windows a little wider on the top than on the bottom with a slight flare to the architecture. This subtle detail matches other decorative elements on the home's architecture and helps dress up a plainer facade.

Trim doesn't need to start and stop at the windows; it can also be used to continue the pattern over the entire house facade. This creates a unique appearance for the home and works well on homes that utilize siding materials other than traditional lap. Architectural panels and stucco walls can gain a little extra dimension when you continue the window trim between the stories.

When in doubt, choose a classic. It's hard to go wrong with a simple, clean white trim. White can come in many shades from bright and crisp to soft and warm, allowing you to match it to the color of your siding in a way that helps create a cohesive design. White trim works well on nearly every architectural style and with more siding colors, so if you're looking for something classic, try white.

Trim doesn't need to stand out to make a statement. On homes like this one where the window shapes and the different types of siding already have a lot of style going on, keeping the trim to a simple white that complements the siding color is enough. The change in direction and material for the trim is enough to make it stand out from the rest of the home, without calling additional attention to the different areas.
Cottage-style trim is another traditional design that works well on a variety of homes. This trim has more depth than flat stock, but doesn't flare out at the top like Colonial. It's more subtle, but still has enough character to match the rest of the cottage-style design. This type of trim works well on a variety of homes including farmhouses, ranches, and bungalows as well as cottages.

Give Your Home a Style Boost with Window Trim
Window trim helps your home's exterior achieve the ultimate in style and design. It's this little detail that helps the rest of the facade come together with one, finished appearance. Whether you're looking to update your entire facade or you just want to emphasize your windows a little more to help them stand out, be sure to take a look at the many benefits of Allura's fiber cement window trim.