The roof and the rest of the exterior of your house have a major responsibility, and that protects the interior of the home from the harsh elements that nature puts out there. The siding of your home plays such a major role, as it's not only for aesthetics, but it helps prevent your home from getting damaged, whether it be pests, water, or mold.
Of course, this extends to the exterior of the chimney as well. In fact, you cannot skip out on the siding around the chimney as this is going to play a major impact on the appearance, but the function of the exterior of your home too. So, if you need to install siding around the chimney, here is everything you need to know!
Reasons to replace chimney siding
Just like all siding that surrounds the house, it's going to get to the point where it needs to be replaced. Unfortunately, the siding around your chimney isn't any different. So, here are some reasons why there may need to be a replacement.
Unfortunately, damage happens, though it's mostly due to the elements. Depending on the material of your siding, too much damage may have occurred to the point that it could jeopardize your home.
Depending on the age of your house, the building codes may be outdated. Whenever a homeowner is trying to sell their home, they will need to ensure that their house follows all building codes and regulations. This usually means that the house, including the chimney siding, needs to be fire-resistant and durable. For building codes, chimney siding is typically expected to be fiber cement siding or masonry such as stone or brickwork. While it depends on the results of the inspection, home sellers may need to replace the materials.
While having a chimney is loving, especially getting a roaring fire going during the colder months, you shouldn't have to worry about your safety. Some homeowners will change their siding around the chimney to ensure that their home and chimney remain safe.
While there are more safety-oriented reasons to install new siding around a chimney, sometimes homeowners get bored and just want to boost the aesthetics of their house. But, just like the rest of the house siding, the chimney siding also gets noticed and can play a major role in boosting the curb appeal for the house too.
While it's strongly advised to get annual roof inspections, it's just not something that all homeowners can afford. However, it's important to get your roof checked, and the corners of your chimney checked out too. If there is any movement in the chimney, you can consider this a bad sign. Leaks and penetrate lead to water damage and mold; this, of course, will cause siding rot.
Materials used for chimney siding
While masonry work tends to be the standard for siding around chimneys, they're not the only option out there. In fact, several different types of siding are available for the chimney. Let's take a look at what they are.
It is strongly recommended not to use vinyl for exterior chimney siding due to the heat from the chimney. It's not the best material, but for prefab chimneys, it's usually used the most. Sometimes, vinyl siding is installed on the very top of the wood furring strips on chimneys. These provide about a 1-inch clearance between the siding and the chimney.
If you're looking for a durable exterior with an attractive finish, aluminum is the way to go! This chimney siding material doesn't rust and provides a uniform appearance. Plus, it's easily replaceable, and you don't have to worry about rot siding.
Authentic and beautiful, this chimney siding adds a bit of excitement that concrete chimney siding just doesn't offer. However, the installation itself is quite challenging, so getting a professional to do the work is strongly recommended.
Oftentimes, wood shingles are used as a siding material for chimneys, especially when continuing around the roof area. But there are some major downsides to this; for starters, the knots in the wood shingles make it easier for water to get inside the internal structure. This means that annual inspections will be needed to prevent leaks or structural damage to the house.
While pine and cedar can be gorgeous for houses, especially as siding, these two materials are slowly going away in chimney siding. How so? Well, more cities are changing their building codes to where pine and cedar are deemed unsafe for chimney siding. It's easy to see why, as this could cause a fire. Some cities throughout the US still allow wood as a chimney siding, but they need to be treated with fire-retardant chemicals first. Make sure to do proper research before making a decision.
Chimneys are often made with masonry materials such as stone or brick, so it's not far-fetched to have the siding around the chimney also be brick. While this is fireproof, there are some issues that don't immediately make it the perfect chimney siding. Masonry materials like brick are held together by mortar, but over time mortar crumbles. This immediately threatens the entire chimney, the surroundings, and the home's structure. You could DIY the repairs or even hire a masonry contractor to do it for you.
Commonly known as Hardie board, you just can't go wrong with fiber cement siding. So many homeowners opt for this, and it's so easy to see why. It can be used for various siding products, from exterior trim, battens, clapboards, panels, and beyond. Plus, fiber cement siding is pest, moisture, rot, and weather resistant. Another thing to consider would be that fiber cement siding is non-combustible; it's ideal for siding for houses in areas prone to wildfires. Unfortunately, it's not exactly a DIY-friendly material, so you will need to hire a professional for the installation.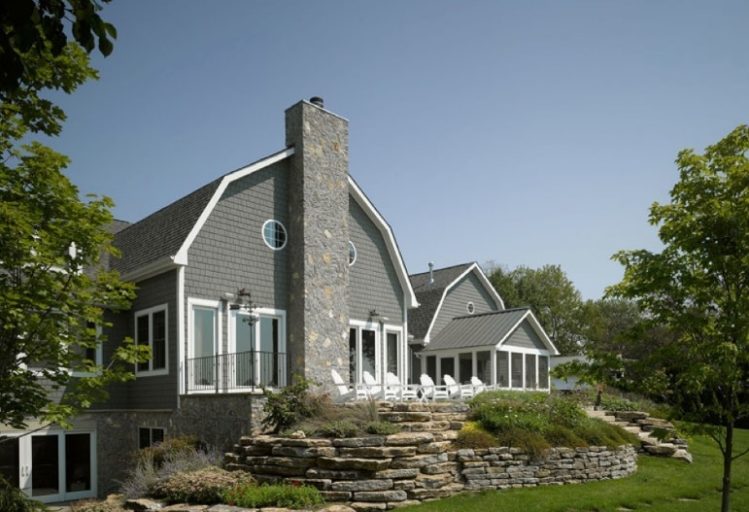 What to keep in mind when installing chimney siding
While leaving the installation to the professionals is strongly recommended, some siding material for chimneys isn't all too challenging to apply. So, if you're an avid DIYer, this could be an option for you. However, it's important to keep in mind that installation for chimney siding isn't the same for all materials. When it comes to chimney-around siding, the installation isn't "one size fits all," and this is especially apparent due to the variety of materials available for siding. So, here are some general steps you can expect for most materials when it comes to chimney siding installation.
1. Gather all needed materials and tools.
2. Ensure everything is at the width it needs to be before installation.
3. Use scribers to follow the profile; this will help in case of irregular lines within the board.
4. If you're doing masonry work, make sure all mortar is chipped. This can be home with a hammer and chisel.
5. Ensure you have acrylic latex caulk; most chimney siding materials require this between the materials and the house itself.
6. Chimney flashing will need to be nailed to the house and connected to the siding.
7. Don't forget about the furring.
Overall, there can be challenges when it comes to chimney siding; just as with every other part of a home's exterior, this needs special attention. However, having properly installed chimney siding will not only keep your home safe from the elements, but you can also count on this leaving a remarkable and lasting impression on your house!