Porches have been making a comeback in terms of popularity in recent years. As the idea of outdoor living spaces takes off, more people are adding things like porches and decks to their properties than ever before. This enables you to enjoy your property more during the nicer days of the year.
The porch is unique amongst the many types of outdoor living spaces being promoted. It has a roof that can help protect the porch and the user from inclement weather. It can also help protect visitors to your home as they wait for the front door to open. Your porch will, by necessity, have a ceiling as well.
Many people, when they're considering the addition of a porch, put a lot of time into considering the style, the flooring, and how it will coordinate with the rest of their home. Unfortunately, this often means that the ceiling gets overlooked during the design stage, and is often given a plain finish.
Having a finished porch ceiling is important for many reasons. Having one that's also finished with style can have an additional impact on your curb appeal.

Why You Need to Finish Your Porch Ceiling Properly
Your porch ceiling may be covered by a roof, but it's still part of the exterior of your home. This means that while it may not be getting directly hit by rain, snow, and hail, it is being subjected to moisture, ice, and high winds. For this reason, it needs to be finished in a material that is designed to hold up to these elements. Otherwise, over time, your porch ceiling could begin to peel, chip, sag, crack, or have other issues that will lower the curb appeal of your home.
At the same time, having a finished porch ceiling enhances the entire structure. It adds to the curb appeal of your home, and gives your entire facade a more finished appearance. For this reason, you'll want to do more than simply cover it in plywood; you'll want to create something that will complement the rest of your home.

9 Porch Ceiling Design Ideas
The aesthetic style of the porch is something that reflects your personality and taste. In most cases, porch ceiling design ideas should reflect the interior aesthetic of the home and create a bridge from the outdoors to the indoors.
There are many details to consider, including texture, color, and lighting. Take a look at these ten awesome porch ideas with unique ceiling designs:
Beadboard is an essential part of cottage style, and an ideal complement to a front porch. This is a classic look that has a lot of appeal to a broad range of people. Done in fiber cement siding, which is less likely to peel or chip than wood, a beadboard porch ceiling will give you years of low maintenance beauty, so you can enjoy your porch for longer.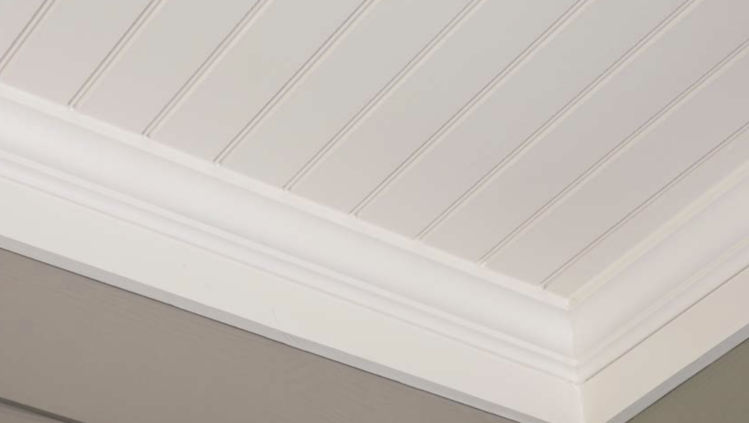 Where the ceiling meets your home is a space that's ideal for creating a little extra interest. Rather than simply using standard trim to join the two planes, consider using a more decorative molding. This simple touch can add a lot of extra charm and detail to your porch ceiling. This is especially true if you coffer the ceiling or break it into sections.
Don't be afraid to play with the color wheel and create bold contrast that feels fresh and fun. In this beach house-inspired design, the porch ceiling features a bright teal finish and vertical beams to create a fun and carefree vibe. Notice how the eye-catching porch ceiling color matches the adirondack chairs to make the design feel complete.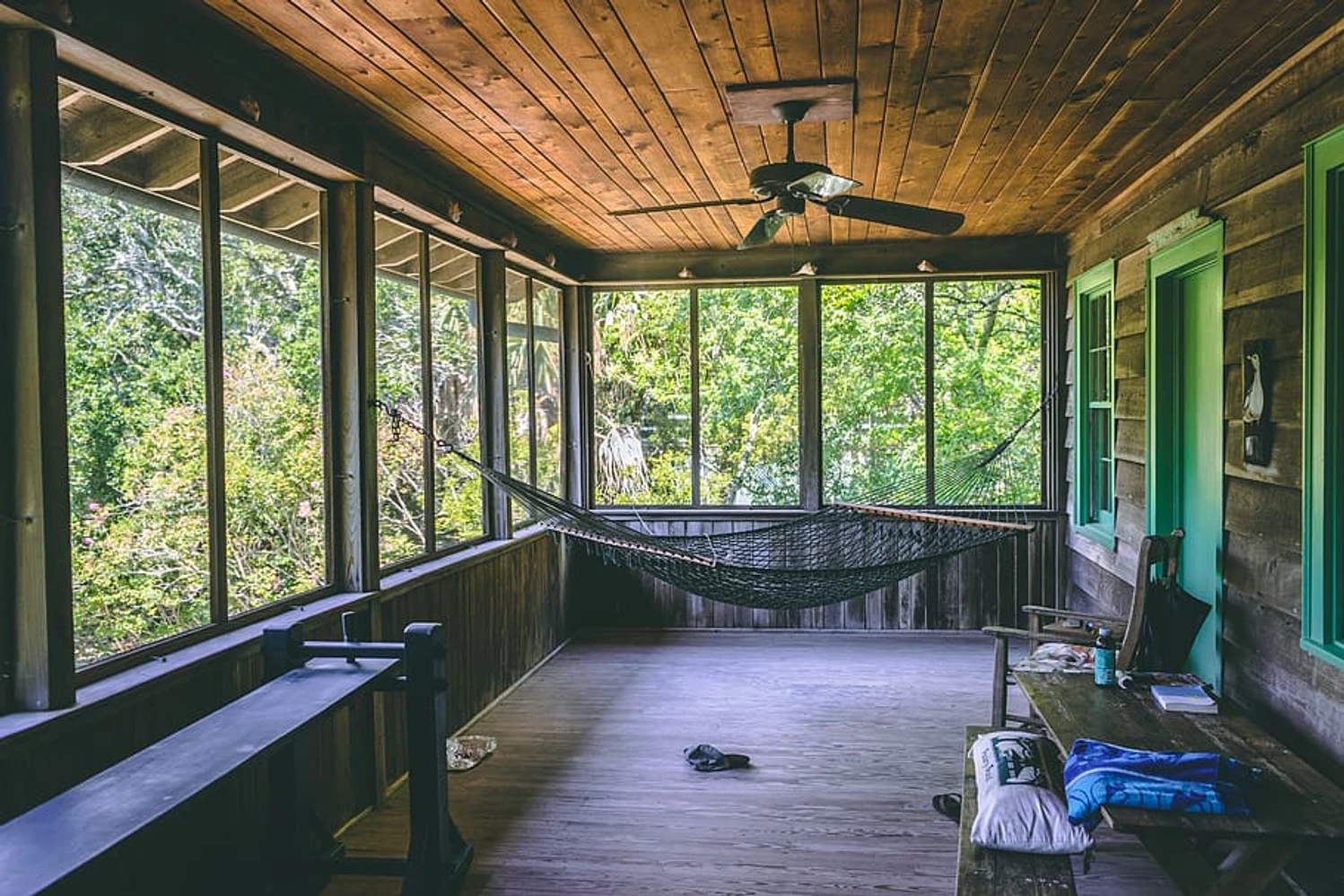 If a hammock is a must for your ideal porch setting, carry through with the theme and embrace a bungalow style from ceiling to floor. Here, the paneled beams on the porch ceiling flaunt natural-looking wood grain patterns and a warm auburn color. Designed to mesh well with the natural setting and the wood-style lap siding, this porch ceiling provides something pretty to gaze at as you nod off in the hammock.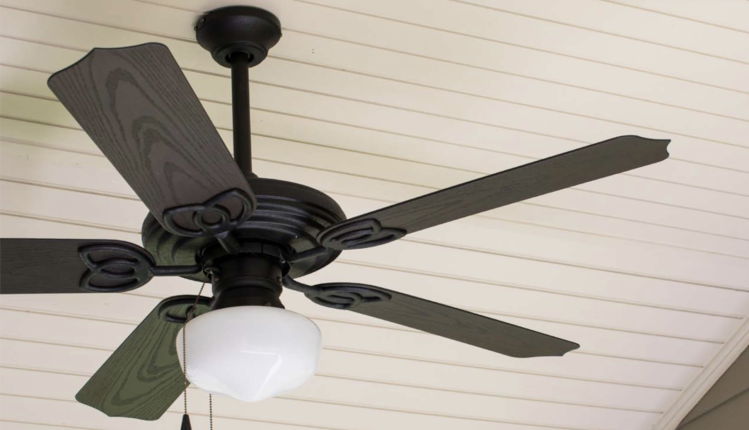 If you plan on using your porch regularly, dress up your ceiling with a fan. Ceiling fans aren't exactly a new idea, but by including one on the porch, you can extend your use of the area during the hottest weather. Add a light, and you can also increase the safety of your porch for guests, or extend your enjoyment into the later hours of the evening as well. Ceiling fans also complement beadboard ceilings perfectly, so you'll have a design match as well.
6. Country-Style Angled Beams
Red board and batten and windows trimmed in white – this home has true country charm. The open-air porch offers a narrow, yet elongated space that encourages kicking back and looking out on the yard. The angled porch ceiling is perfect for this setting in the sense that the vertical beams harmonize with the board and batten siding while the white color goes well with the window trim. Plus, the angled slope is great for enjoying the porch while it's raining without getting wet.
7. Enhance Al Fresco Dining with Recessed Lighting
If light and bright is your home's mantra, then extend the color palette out onto the porch with various neutral tones and segmented white beadboard along the porch ceiling. Recessed lighting adds an elevated touch that's practical, too – it doesn't distract from the stylish layout of the porch ceiling and won't be a harbor for bugs. This porch design acts as a seamless extension of the home.
Coffered and tray ceilings have long been popular as a way of adding detail to a room. While they might be a little much for a simple porch ceiling, it's still a good idea to break up larger porch ceilings with some moldings between sections. This adds a little extra interest to the ceiling, and helps create the illusion of "rooms" or spaces within the porch for reading, relaxing, and entertaining. You can use a number of different ceiling styles between the sections, including beadboard or a plain finish to complete the look.
9. Go for Log Cabin Aesthetics
A great example of a sophisticated cabin setting, this porch ceiling reflects a rustic look with wood-style panels in a very similar hue as the log-style siding, patio furniture, and deck. The decorative white shutters add a nice pop of light color to keep this patio cozy.
Dress Up Your Porch Ceiling in Style
No porch is truly complete without a finished ceiling. No matter how much detail you put into the columns, railings, or flooring of your porch, without a ceiling to match, the area just won't appear complete. A high quality ceiling made out of a material designed to be used out of doors, like fiber cement, can go a long way toward completing your exterior style. Dress up your ceiling with one of these design ideas and gain more curb appeal.
For more info on how you can dress up your porch ceiling, contact an expert at Allura today!