Prefinished siding materials are a more durable building option than standard exterior paneling. The upkeep required on prefinished engineered wood siding and prefinished fiber cement is drastically lower than untreated timber, vinyl, and other basic siding options. When comparing prefinished materials, how do you know which one is best?
This guide compares two popular choices: prefinished fiber cement and prefinished engineered wood siding. Both materials are much stronger than natural wood, however one has a very clear advantage over the other. Read on to understand exactly why fiber cement is the best alternative to prefinished engineered wood siding.

Fiber Cement vs. Prefinished Engineered Wood Siding
Let's compare fiber cement and prefinished engineered wood siding by category to get a full understanding of how they measure up.
Understanding why fiber cement is a better choice than prefinished engineered wood siding can all be traced back to the composition of the materials. How they're made — and what they're made of — makes a big difference when it comes to the performance of fiber cement.
To make engineered wood siding, thin strips of leftover wood are pressed and bonded together with a resin. The resin is key in making prefinished engineered wood siding perform better than raw wood, because it enhances a resistance to rot and insect damage. Engineered wood does become more durable due to the resin, however it still consists of wood materials at its core, which has many risks.
Fiber cement is crafted with a unique blend of Portland cement, sand, water, and cellulose fibers, which deliver heavy-duty strength with forgiving flexibility. The final product is durable, weather-resistant, and long-lasting.

Both materials can be produced to imitate the look of real wood, including intricate wood grain patterns that appear natural and authentic. Unfortunately, not all prefinished engineered wood siding products come already painted. Engineered wood is commonly sold ready to be primed and painted, but not completely finished. The resin surface of engineered wood reduces chipping and peeling, but it still has the risk of cracking and fading over time.
Fiber cement, on the other hand, has a pristine surface appearance that is intentionally designed to maintain its aesthetic appearance for at least 10+ years.

Another significant area of distinction is with moisture resistance. Due to its cement-based composition, fiber cement is extremely moisture-resistant, so rotten, moldy panels won't be an issue.
Prefinished engineered wood siding, on the other hand, is essentially a bunch of wood strips pressed together, meaning moisture still remains a concern. Water damage from seasonal rain and snow can also wreak havoc on engineered wood.

Flammability and Fire Rating
Flammability will always be a major issue for engineered wood siding, because of its composition.
In comparison, fiber cement siding has a Class A Fire Rating, meaning it can significantly slow the spread of flames in the event of a house fire.

Extra Benefits of Prefinished Fiber Cement Siding from Allura
Once you consider the facts, it's plain to see that fiber cement provides better durability and protection for the home than prefinished engineered wood siding. On top of being a more reliable choice that will look and perform great year after year, prefinished fiber cement siding from Allura offers extra benefits during the installation process.
Reduce Costs with Fiber Cement
Allura fiber cement products are sold at an affordable price point that makes them an easy choice for homeowners who appreciate long-term value. Choosing a prefinished fiber cement product can cut costs by eliminating the need of buying paint and painting materials.
Naturally, homeowners can expect to reduce labor costs, too, since there's no need to hire a professional painter. Allura's prefinished fiber cement products are pre-painted using their Spectrum™ Color System. In other words, prefinished panels arrive ready to go!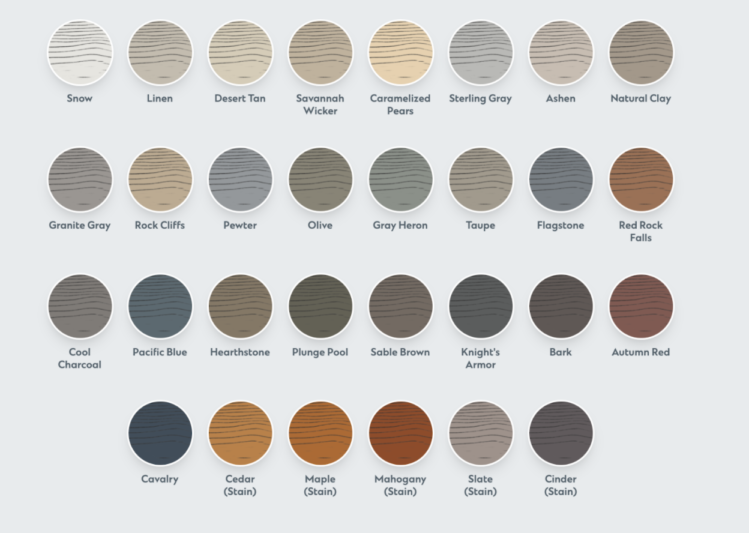 Another great perk of picking prefinished fiber cement panels is that siding projects can be accomplished much faster. Painting time is eliminated, as is the risk of project delays due to poor weather. In other words, you won't need to wait for a dry day to paint, since prefinished fiber cement siding already arrives finished straight out of the box.
Long-Lasting Color with Extensive Range
Allura's prefinished fiber cement products are high-quality siding selections that homeowners can count on. Allura uses Sherwin-Williams color technology and Spectrum finishes to produce exceptional color that will last season after season. This cuts down on maintenance and allows homeowners to be confident that their home will keep its attractive curb appeal. A wide spectrum of modern, traditional, and authentic wood-style colors are available with Allura, so it's easy to design the home of your dreams.
When it comes to deciding between fiber cement and prefinished engineered wood siding, the choice is clear.
Contact Allura today to explore a wide range of exceptional prefinished fiber cement products that can beautify your home.