Red brick houses with black trim are rare – but unforgettable. Once you see this majestic combo, it's stored in your memory for future design ideas. But why wait? You can craft your own red brick house with black trim by taking smart design notes and an inspired approach.
This guide provides five unique ways to mix and match red brick with black trim. All of these styles offer a different take on the red brick house with black trim style. Keep in mind that different architectural styles may be better suited for particular design ideas.
Regardless of which style catches your eye, selecting a durable, high-quality trim can help protect the integrity of the design so it can continue to make a big impact for years to come.

The Secret to Why Black Trim Works So Well
Brick is often perceived as a comfortable material, as it was used for just about every type of building in the early 20th century. Black trim, on the other hand, is a unique choice that isn't seen as often.
As commonplace as red brick feels, this familiar material gets a major boost when paired with a crisp, sophisticated black exterior trim. Black provides a bold, upscale feel, and it's a surprising pairing with standard red brick. It's this unexpected combination that creates a stunning result for red brick houses with black trim!

5 Red Brick Houses with Black Trim
As always, having some guidance can help homeowners find the right balance when using this unique design strategy. Take a look at five stunning ways to pair a red brick house with black trim and find your new favorite:

1. Classy Georgian Architectural Style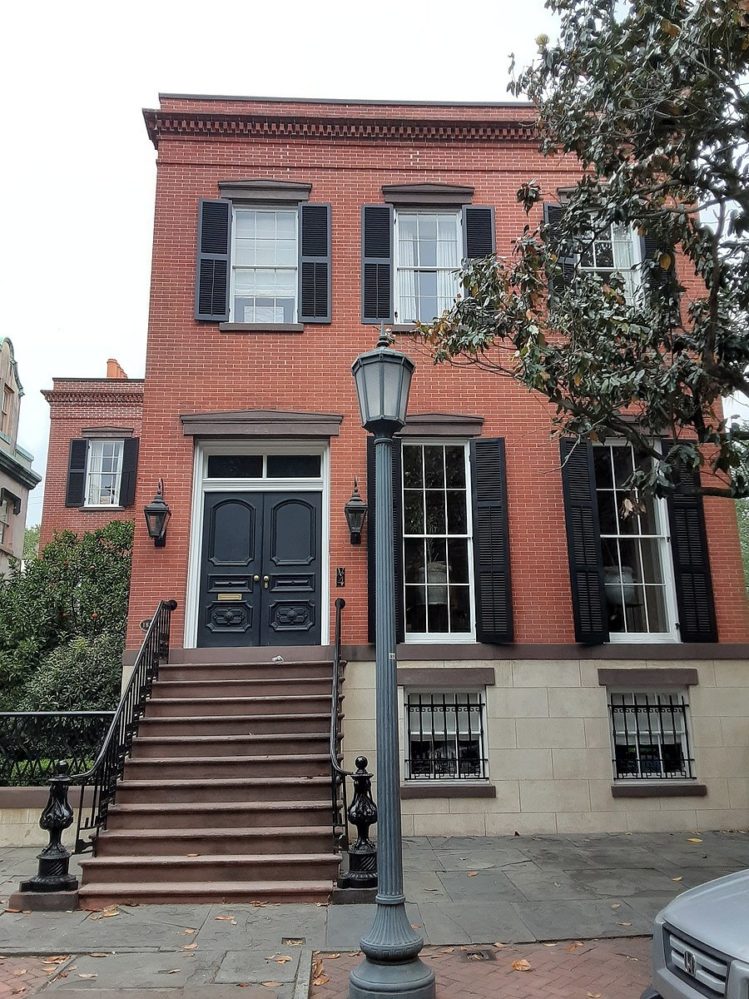 Flaunting classic Georgian architecture, this red brick house features targeted trim areas, like the shutters and railing, to add the perfect amount of color contrast. Notice how the traditional black lamps and black front door create an anchor for the trim color so that the entire facade looks balanced and natural.

2. Pairing Pale Red Brick with Charcoal Black
This mod multi-family building is a great example of how a pale red brick house can still take part in major color trends. By choosing a charcoal black, which is slightly gray in tone, the pale red color doesn't look out of place or muted. Instead, the lighter tone looks absolutely superb with the charcoal black trim and coordinating roof color. Notice how additions of terracotta – at the top of the windows – add a third color into the mix to complete the palette and create a more natural feel.

3. Sharp and Stylish Texture Play
Smooth architectural panels provide a pop against the high-intensity texture of the classic brick facade of this modern building. The neutral tones are pulled into the design with the unifying black trim. Not only does the bold black trim act as a thread to visually connect the different colors and textures in a seamless way, it also escorts the established red brick into the modern era with flair and sophistication.

4. Charming Tudor Revival Style
This red brick ranch house with black trim leans on traditional tudor-style architecture to create a cozy feel. The bold beams and maximalist trimwork feel much more sophisticated with their black finish, while the classic red brick keeps the familiarity of this timeless style.

5. Elegant Fortress with Black Trim
Why settle for standard? This red brick house with black trim windows delivers an unforgettable look, thanks to a number of thoughtful details found throughout the exterior. First of all, notice that an intricate, alternative brick pattern helps dial up the design quality and intrigue of the facade. Then, the gorgeous black trim adds emphasis to the unusual window layout, extending the lines vertically to exude strength and stature. With the feel of a fortress, this red brick house with black trim is jaw-dropping.

Build with the Best Materials
One of the most important aspects of creating stunning exteriors is to find reliable, high-quality materials that maintain their allure for many years without much maintenance needed. When it comes to exterior trim, durability and color consistency are key to this endeavor. For this reason, traditional materials like wood and vinyl trim are rarely the best choice.
The good news is that there is an easy, affordable solution. Fiber cement trim provides the enhanced durability needed to help craft long-lasting exteriors that exude exceptional design quality, like those seen here in the examples of red brick houses with black trim. Designed to deliver consistent color quality and a strong material composition, fiber cement black trim is the smart choice.
Ready to create your own version of a red brick house with black trim? Contact the team at Allura to find a variety of strong, long-lasting, low-maintenance trim options that can help you capture the right aesthetic!