Taupe siding is a popular choice for residential homes because of its incredible versatility. While bright or unusual colors, like orange, green or black, may fall into trendy categories, they often lack the staying power of neutral exteriors, like taupe-colored siding. Fads will leave homeowners needing to redo the home's exterior after just a few years because the excitement has faded. Taupe siding, on the other hand, is a consistent color that continues to look great for many years.
Taupe siding offers an incredible range of potential and charm that can add distinct character. By making intentional choices for color, texture, and architecture, homeowners can create beautiful curb appeal with taupe siding.
Take a look at nine taupe siding color strategies that beautify the home and generate long-lasting curb appeal:

1. Taupe Siding with Earth Tone Accents
Taupe is considered a neutral color, just like brown, beige and cream. It carries a particular warmth and naturalness that marries extremely well with earth tones. Rusty red, navy blue, and forest green are all examples of earth tones that look great with taupe siding.
One of the most common ways to create these warm color combinations is to use taupe as the main siding color and accentuate the exterior with earth tones in distinct areas. For example, highlight the foundation or lower level of the home with a rusty red hue and use navy blue for roofs and awnings. Incorporating earth tones as accent colors can allow the taupe siding color to shine — especially when it's featured with a simple, subdued texture, like traditional horizontal lap.
2. Taupe Siding with a Single-Color Accent
Another strategy is to dive into the other end of the spectrum and pick a single-color accent that pops, like white or cream. White tends to make taupe siding appear a bit darker by contrast, so that's something to keep in mind when designing the home's exterior and choosing other ornamentation.
For the single-color accent to have a big impact, it's important to keep the color consistent across all elements of the home's exterior. The foundation, window trim, porch banisters, and shutters should all be the same shade of white to create a crisp contrast against the taupe siding color.

3. Utilizing the Garage Door to Create Color Consistency
Sometimes homeowners overlook some of the easiest opportunities for using color throughout the home's exterior. The garage door is a great place to create color consistency with taupe siding. When employing this technique, be sure to break up the space between the garage door and taupe siding with a segment of siding or trim in a complementary color. A small segmentation of color can help the different areas of the home stand out and look intentionally designed.

4. Vertical and Horizontal Lap Combo
There are other strategies for beautifying the home that go beyond color contrast or color cohesion. Emphasizing dimension and depth can be a great way to add character to a home's exterior. An easy way to do this without alternating colors is to feature the same color of siding arranged in horizontal lap in some areas and vertical lap in other areas.
Board and batten is another great vertical arrangement that can diversify the look of the layout. Many homeowners who use this two-directional combination like to use it intentionally so that it emphasizes architectural features. For example, keep horizontal lap siding across most areas and save the vertical taupe siding for the dormers.

5. Grey-Toned Taupe Siding
Not all taupe siding colors have the sandy brown hues that most visualize when they think of a home with taupe siding. It's not uncommon for some taupe siding colors to have a noticeably grey tone. This opens up even more design possibilities for homeowners that want to utilize taupe siding. For grey-toned taupe siding, stonework can be a great addition to pull out the grey character.

6. Dollhouse Architecture with Different Tones of Taupe Siding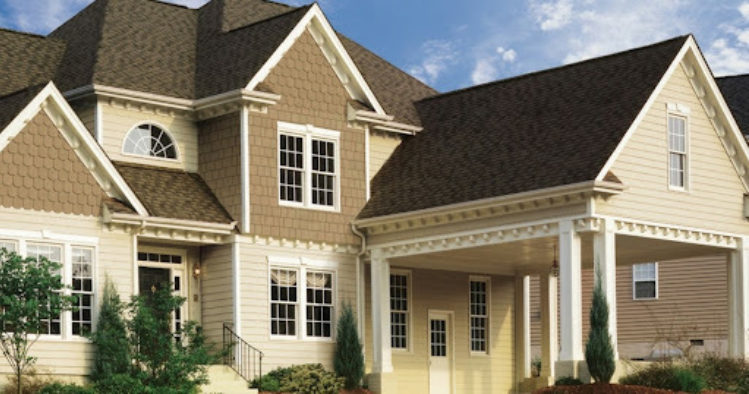 To play on the dollhouse look of colonial-style homes, consider pairing traditional taupe siding with softer hues, like butter yellow, cream, and rose. Surrounding the taupe siding color with a soft palette can help the home feel friendly and welcoming without losing its architectural depth. Texture is also a huge component of colonial-style homes with a dollhouse look. Mix and match textures, like horizontal lap with scalloped shake siding, and add decorative fascia for a wonderfully intricate exterior.

7. Taupe Siding with Texture and Olive Accents
Sticking to darker shades of taupe can be inviting when the right textures and accent colors are selected. Here, olive-colored hues are integrated throughout the home's exterior on the garage doors, banisters and trim. The shift in texture, from horizontal lap to variegated shake, adds extra character to the taupe siding.

8. Taupe Siding Color as an Accent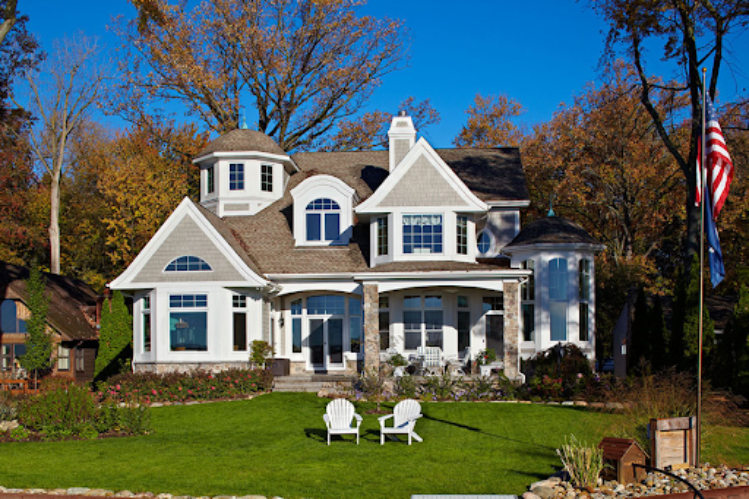 Another way to approach taupe siding is to use it as an accent rather than the main exterior color. Taupe siding performs wonderfully as an accent piece for white siding, and incorporating other neutral tones further emphasize the beauty of this color combination. A light brown roof and light-colored stone columns blend well with the taupe siding to create a wonderful, cohesive look.

Taupe siding is a great choice for homes that play on natural aesthetics. Dark walnut is a fantastic trim, shutter and roof choice that outlines taupe siding in a way that is both steady and stylish. If a natural, understated aesthetic is your goal, taupe siding paired with a dark wood color is an excellent choice.

Beautiful Your Home With Natural Siding Colors