Many architectural styles are made up of several exterior design elements. They may be subtle, such as bump outs or they may be more dramatic, such a tower or turret. And whether your home has these attributes or not, covering it with a single color of siding can create a very bland exterior. By utilizing two colors of siding, you can liven up a plain exterior or call attention to any special features your home may have.
Two-tone siding can be bold or subdued. It can be used on any type of siding — from decorative shingles to traditional lap. No matter how you use it, it's one sure-fire way of boosting your home's curb appeal.
Types of Two-Tone Siding
When most people think of having a two-tone exterior design on their houses, they're probably thinking about Victorians, painted ladies, and other historic home styles. These grand houses were designed to have a lot of decorative elements as part of their exterior charm, and using two or more colors of siding was the best way to show it off.
But, it isn't necessary to have a lot of decorative relief and other elements in your exterior design to get a two-tone look. Sometimes, all you need is a focal point or a division within the space.
Some of the most effective designs incorporating two-tone siding include dividing the space by using one color of siding on the lower half and a second tone on the upper, thus creating a focus. This is done by highlighting one small area, either just below the eaves or by surrounding a single window in a contrasting color.
These are not the only ways to get a two-tone exterior, but they are arguably the most common.
Considerations
While there are no hard and fast rules for combining colors on your home's exterior, there are a few considerations that can make your exterior style even better.
First, consider switching the type of siding when you change your color. For example, moving from horizontal lap to cedar-look shingles can further highlight the effect.
Whether you change siding types on the exterior of your home or not, make sure to include some type of transition between colors. This is usually an extension of the trim and separates the two sections in order to highlight them.
When choosing your colors, keep in mind that colors that sit beside each other on the color wheel, as well as tones that are varying shades of the same color, can give you the most subtle looks. If you want to create something more dramatic, opt for colors that are opposites on the color wheel, like red and green.
Finally, be sure to pay close attention to your trim color. Your trim can match the main siding, the accent color, or introduce a third color into the mix. What you choose for your trim can enhance or downplay the overall color scheme.
Two-Tone Siding Design Ideas
There are seemingly endless ways you can create a two-tone exterior design on your home. If you're looking for inspiration to help narrow down your choices, take a look at these 6 designs.

1. Lights and Darks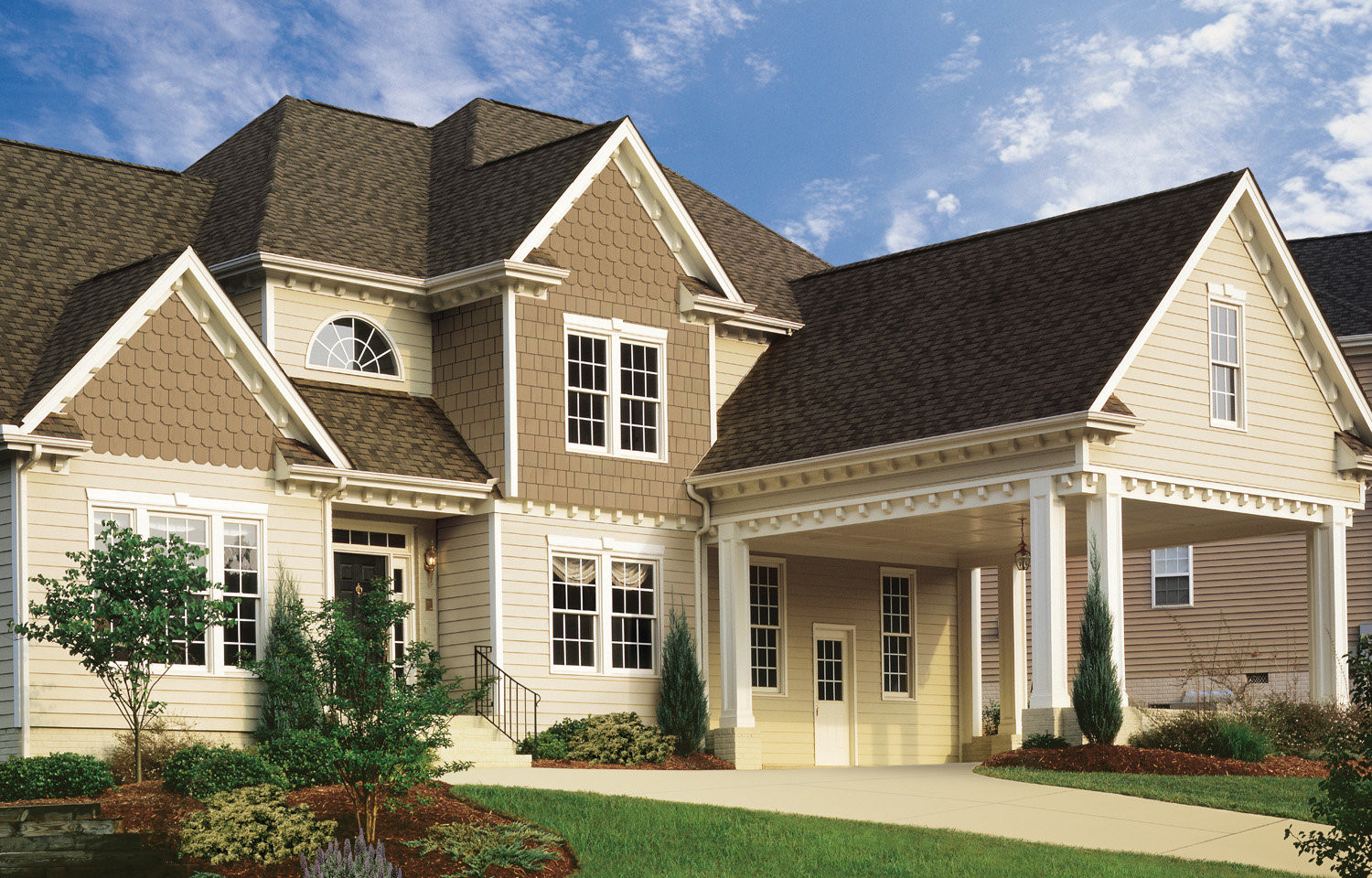 This home makes great use of light and dark shades that are roughly the same in tone and warmth. When moving between colors, the siding changes from horizontal lap to two different types of shingles. In most areas, there is a decorative break between the two colors, which helps bring some visual space to the design.
2. Dramatically Bright
This home makes great use of opposites on the color wheel to get a dramatic look. Neither color is very bright, which is the key; they have the same muted undertone to them. The introduction of cream-colored trim separates the two colors, which would otherwise visually vibrate against one another, making the exterior seem too busy.
3. Subtle Design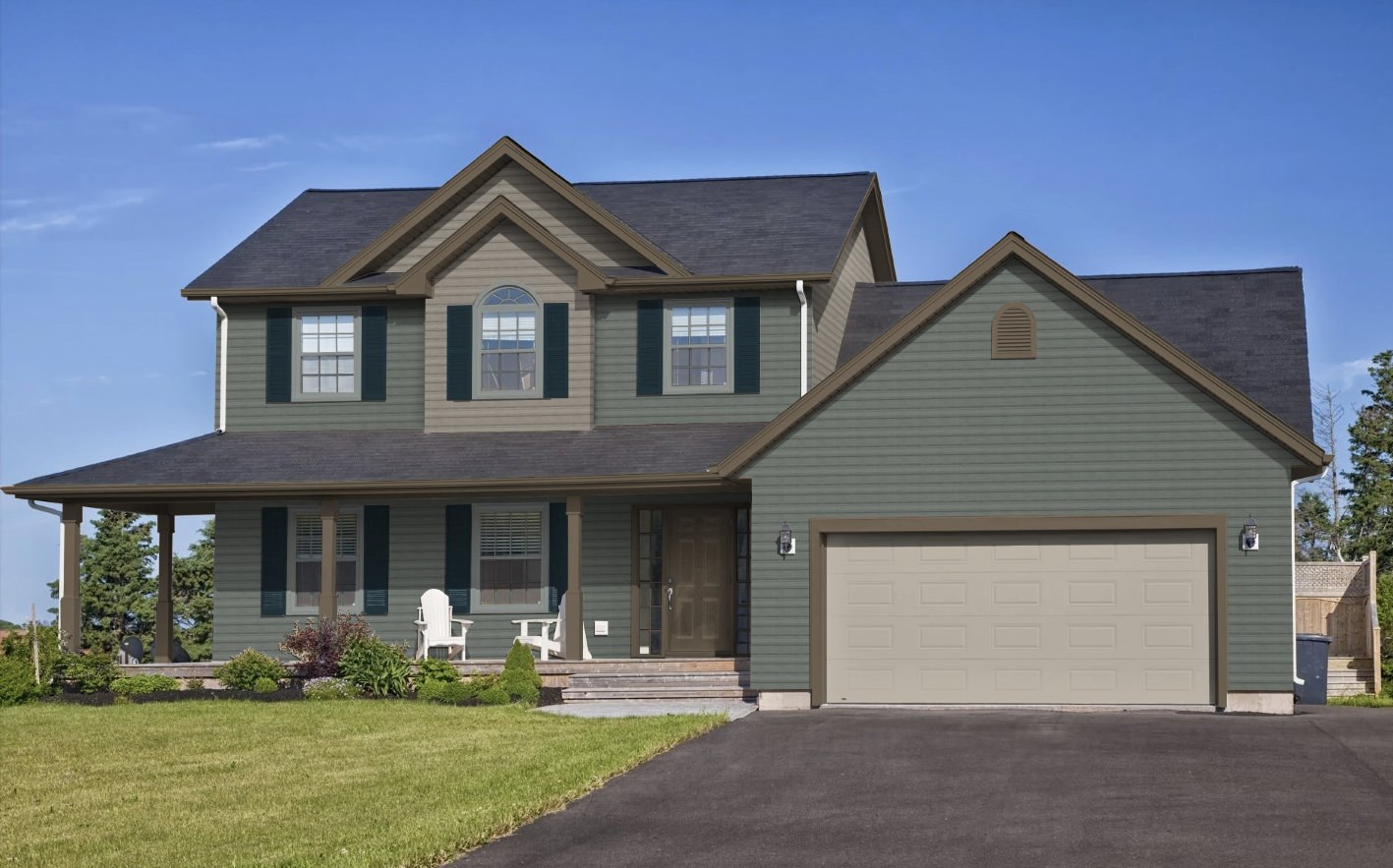 This home uses two-tone siding to create a more subtle effect. The window bump out on the second story, as well as the framed gable, are in a slightly different color than the rest of the lap siding. By slightly lightening the color in this area, it pulls the eye upward, and makes that area of the home stand out.
4. Tone on Tone
This home shows another way to use different shades of the same color to great effect. Different siding types are used and the two colors are separated by the trim. The effect is interesting and harmonious, especially as the two colors are fairly evenly balanced across the property with the darker color on the lower level for gravity.
5. Architectural Callouts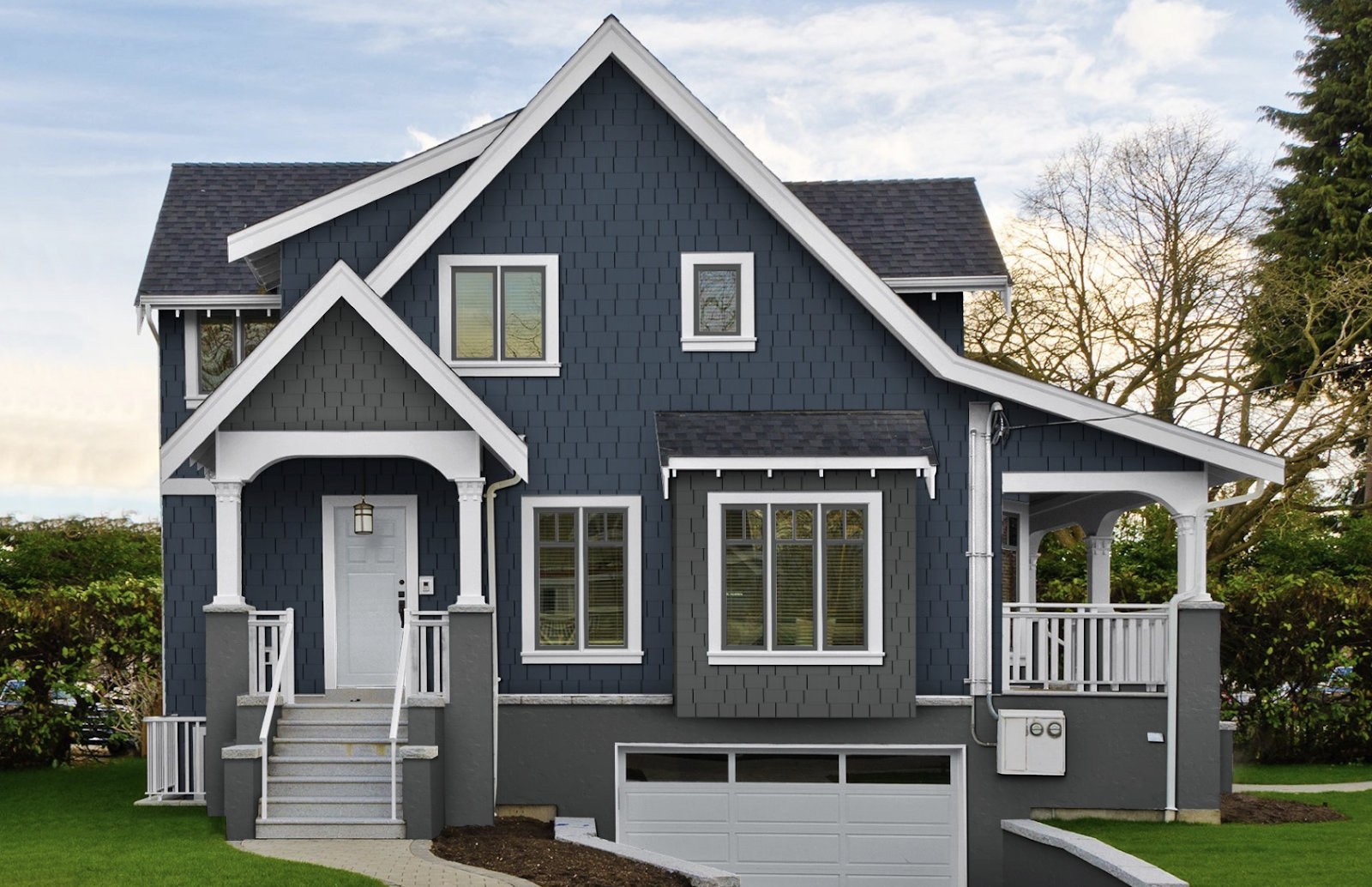 This home has several interesting features, such as the bump out window, contrasting roof lines, and different material on the lower section. By using two colors along with a crisp white trim, the home manages to call subtle attention to its architectural features, without making the exterior appear too busy.
6. Exterior Brightening

This home has a warm, rich color palette that makes it feel very homey and approachable. Despite the dark color of the lap siding, the home also looks very bright with the introduction of some lighter areas beneath the eaves. The olive green garage door and trim add interest and keep the exterior from becoming too bland.
Create Your Own Look
Two-tone exterior siding designs can help you personalize your home, while enhancing its curb appeal. Consider using any of these ideas as your starting point to capture the beauty and interest of a two-tone exterior for yourself.