Resale value is a vital element to consider when making aesthetic improvements or updates on a home. It can be fun to go crazy with color according to every trend that comes up, however, there are certain siding colors that maintain timeless attraction. These colors consistently hold higher resale potential than others, making them a smarter choice for getting longer-lasting value.
What color siding has the best resale value? Take a look at the top exterior siding colors that stay valuable for the long run — and make sure you know which colors tend to drop in value over time, too.
Neutrals Are the Safest Option for High Resale Value
A neutral siding color is the smartest option for maintaining high resale value on a residential home. Why do neutrals have a higher resale value? The answer is simple: a classic look with versatility.
Neutral siding colors are extremely easy to work with and they adapt to different styles. No one wants to adopt someone else's personalized look when moving into a new home. Almost every homeowner is interested in finding fresh ways to make the space feel like theirs.
Easy-to-match, neutral-colored siding provides a pleasant canvas easily accented with bold trim colors, shutters, patio furniture, and entryway decor. Natural materials, like stone, slate, and brick, also pair well with neutral siding, affording even more options for adding custom designs to the exterior.
This rich potential allows neutral-colored siding to retain an exceptional resale value. Simply put, potential homebuyers feel more confident in their abilities to transform neutral palettes since classic colors are pretty easy to work with and never go out of style.
The Best Colors for Resale Value
Some homeowners are surprised to discover that there is so much depth to neutral color palettes, more than basic brown and beige. Tone is key in giving a specific hue a neutral feel and protecting the resale value.
Here are a few neutral siding colors that have the best resale value:

Tawny tans and earthy browns continuously see great returns on the resale market. These natural tones are great with black or white trim to bring added definition. Earth tones also work well with stone and brick features, like foundations, columns, or smokestacks.
The color grey has seen a major resurgence in home trends — both in exterior and interior design. Many homeowners are attracted to a grey palette because of its calming effect and modern feel. Grey siding exudes exceptional freshness when paired with a crisp white trim.
White is another neutral siding color with a classic look and excellent resale value. White siding presents an elegant, luxurious look that feels welcoming when paired with deep black trim.
Neutral siding is not limited to one side of the color wheel. Blue siding can communicate a neutral tone when it veers towards another prominent neutral color, like slate grey or cream. Having just a hint of blue saturation in these more classic neutral tones brings a modern edge that homebuyers love.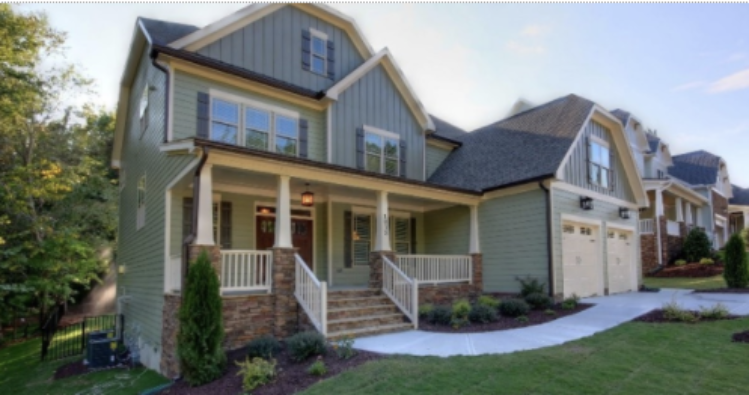 Sage green maintains a fantastic resale value as a neutral siding color. Unlike primary green, sage green has a muted appearance that leans towards grey, allowing it to perform wonderfully as a neutral siding with a hint of modern color. Another advantage of sage green? It works with almost any trim color, including brown, black, white, and beige.
Bright hues and pastel tones, like yellow, orange, pink, and teal, tend to lose their resale value quickly and should be avoided if there's any chance the property will be listed for sale in the future. Bright siding colors are fantastic for adding fun, unique looks, and standout character to a home's exterior. However, they don't appeal to homebuyers as universally as neutrals. This, in turn, negatively affects the resale value and makes them a high-risk investment choice when remodeling a home.
Choose Fiber Cement Siding for High Resale Value
Even the safest siding color choices with high resale value are at risk of devaluation if the proper materials aren't used. Traditional siding choices, like natural wood and vinyl, are prone to deterioration over time. This happens as a result of general wear and tear, exposure to the elements, and neglect.
Most siding requires routine maintenance to keep its aesthetic appeal. However, there's another choice that can simplify long-term performance and provide homeowners with a greater chance of cashing in on a high resale value.
Fiber cement siding is intentionally designed to be super low-maintenance and intrinsically more durable. These two factors allow it to keep its aesthetic appearance and maintain an attractive look much longer than other siding choices.
Allura makes durable fiber cement siding in a wide range of neutral colors, meaning homeowners can put themselves in the best position to see a high resale value on their exterior siding. Contact Allura today and explore durable, high-performance siding in a variety of beautiful colors.