Clapboard is a popular siding style that's considered a classic in the design world, but what is clapboard siding made out of? Is it easy to maintain?
This article tackles the most common questions about clapboard siding and serves as a guide to finding the best clapboard materials on the market.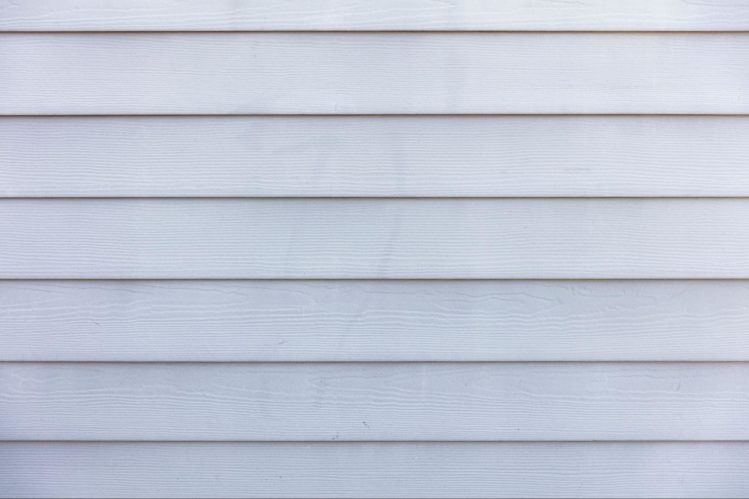 Understanding Clapboard Siding
Most homeowners can recognize lap siding from the horizontal panel layout. What often surprises people is that there are many different types of lap siding – each with distinct design differences that can alter the finished look of the exterior, including more or less pronounced shadow lines and curvatures of the lap.
Clapboard siding features individual panels that are each shaped like a wedge, meaning the bottom side of the panel is slightly thicker than the top. Traditionally, achieving a uniform shape meant carefully splitting wooden boards into thin, wedge-shaped strips before nailing them onto the home. In fact, the name "clapboard" originates from the Dutch word meaning "to split", klappen.
While the overlapped design was originally created to help water run off the side of the exterior, today's clapboard siding designs are much more effective at protecting the home. This is due to a combination of factors, including modern materials that perform better than wood, high-tech fabrication, and easy-installation designs.

What Does Clapboard Siding Look Like?
Because of the traditional wedge-shaped panels and snug overlap, clapboard has a relatively smooth and flat appearance that has a noticeable lap profile with subtle shadow lines. All in all, clapboard has a very classic appearance that looks great on any home.
Where Is Clapboard Siding Used?
Clapboard siding originated in the Northeast, and it continues to be a popular style in New England. However, because of its genuine charm and wide appeal, clapboard siding can be spotted throughout the country.
Homes, barns, garages, and special-use buildings – clapboard is truly a versatile siding style. Clapboard siding has been used in a wide range of architectural styles with creative applications. In addition to being used from foundation to roof to cover the exterior of homes, clapboard can also be used as an accent – for example on dormers – to help particular features stand out. With classic appeal, clapboard offers lots of design potential.

What is Clapboard Siding Made Of?
Traditional clapboard siding was made from raw timber. Wood clapboard can have a beautiful appearance, but it is extremely difficult to maintain because it is prone to water damage, dry rot, and pest infestation. Sustainable foresting can also be difficult to ensure. For those reasons, most homes no longer use traditional wood clapboard.
What is Modern Clapboard Siding Made From?
Builders have found many ways to keep the authentic style of clapboard without relying solely on wood. Alternative materials include metal, vinyl, and fiber cement. Of these, fiber cement is the most preferable option because of its enhanced durability, low-maintenance upkeep, and weather resistance.
Is it Easy to Repair Clapboard Siding?
You typically won't need to do much repair work or maintenance on fiber cement siding, but repairing wood and vinyl clapboard siding can be extremely challenging due to the nature of the materials. Wood requires precise cutting, sanding, and installation in order to create a seamless appearance, and it tends to require a lot more repair than other materials.
Vinyl can also be prone to damage. While replacing individual sections of vinyl is pretty easy, getting a precise color match is close to impossible. Vinyl clapboard tends to fade with sun exposure, so replacing old sections of vinyl with new pieces can often result in noticeable patchwork, which can compromise curb appeal.

Fiber Cement Clapboard Looks Great and Lasts Longer
Building with reliable modem materials can make a big difference when outfitting a home with clapboard siding. Allura specializes in crafting low-maintenance siding that has all the original charm and character of classic clapboard.
Panels have a factory finish with high-quality color that maintains its clarity and appearance year after year. Allura also provides plenty of aesthetic options, like clapboard with a smooth finish and clapboard with a wood grain finish.

Beyond the stunning aesthetic quality of Allura clapboard, it's the material composition that truly makes a difference when it comes to product longevity and maintenance.
Allura uses high-quality fiber cement – which consists of sand and cellulose fibers – to create extremely durable products that can stand up to the outdoors. Super easy to install and even easier to maintain, Allura fiber cement clapboard is the smart option for outfitting your home or business.

If you're designing a home with clapboard siding, be sure to choose a reliable product that offers outstanding aesthetics and serious durability. Contact the team at Allura today to explore a wide variety of fiber cement clapboard for your next project.