Among all the various architectural techniques that have come and gone, the classic white Colonial home style has impressive staying power.
Consistently popular, this distinct style and basic black and white color palette capture something difficult for other aesthetic approaches to pull off.
Understanding the history, context, and modern wave of the white Colonial house style is essential to truly appreciate its role in homebuilding trends. The tradition continues, with modern materials like fiber cement offering enhanced durability to keep white Colonial homes looking great with much less maintenance. The traditional style is only getting better as the years go by.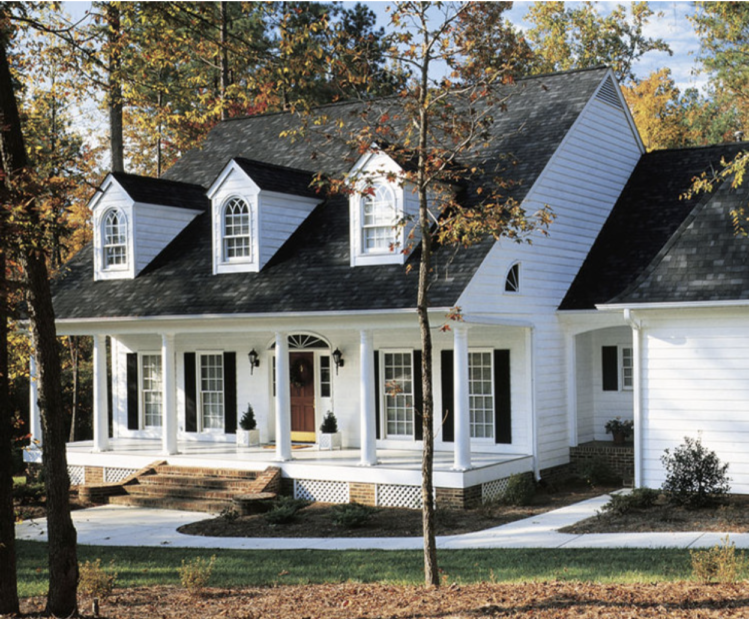 Ready to dive deeper into the black and white Colonial house style? Let's explore this unique aesthetic's history and transformation, as well as the building trends projected for the upcoming years.

An Introduction to Colonial Houses

As the name suggests, Colonial houses are those that reflect the traditional architectural approaches that were popular throughout the early colonies. Most of these distinct features were go-to building styles between 1700 and 1800. Many Colonial homes can be seen throughout the East Coast where colonial development was most active as cities began to form rapidly.
Various European powers had colonies throughout the world at the time, and slight differences in architecture can be seen when comparing Dutch, French, Spanish, and British Colonial styles. For example, both Spanish and French Colonial houses tend to feature more balconies and Greek revival elements, which can be spotted in Louisiana where those influences were strongly at play.
British Colonial houses were, and continue to be the most common style in the U.S. These homes are recognized by their saltbox shape, steep gabled roofs, exterior shutters, and symmetrical layout of windows and doors. White Colonial houses with black shutters are a fine example of traditional color usage in the British architectural tradition, though other neutral colors like gray and brown are common, too.

The Appeal of Modern White Colonial Houses

Then and now, white Colonial houses with black trim are found to be fresh, modest, and charming, with clean lines and a welcoming feel. This easy-going yet sophisticated appeal strikes a balance between practicality and aesthetic value, making it a versatile style that draws the attention of many.
White and black Colonial houses are also easy to modify according to preferences and needs. Minor changes in the layout can be achieved by adding or removing specific details, like ornate columns or front porches, to make the home either more or less stately.

Updating Old Colonial Houses with White Siding and Modern Materials

Modern white Colonial houses retain many of the original qualities of their predecessors. Still, certain features can be dramatically enhanced with more modern building technologies, which is a trend that is forecasted to continue.
One of the most common elements to update on old Colonial homes is the siding. Original homes typically relied on wood siding, which requires seasonal repainting and maintenance to deal with weather damage. Modern-day homeowners often lack the time, energy, or desire to mess with exterior maintenance that can otherwise be avoided. With a simple swap from traditional wood siding to durable fiber cement siding, homeowners can gracefully usher in a classic Colonial house to the modern era.
In fact, basic renovations like this are among the fastest and easiest ways to upgrade older structures. New builds can also benefit from the classic Colonial house architecture. Requests for new home construction projects completed with traditional architectural styles have become extremely popular.

The benefits of approaching a new build with classic Colonial houses as the fundamental inspiration is that modern materials can be used throughout to achieve a durable, clean, and consistent look without all the maintenance and upkeep of older, traditional building materials.

Best Modern Material for Building a Modern White Colonial House with Black Trim

There are many options out there for enhancing a classic white Colonial house with upgraded siding. One of the best ways to ensure an authentic look for your white modern Colonial house — whether it's a new build or a renovation — is to outfit it with stylish fiber cement siding.
Fiber cement siding delivers the crisp white color consistency needed to last a long time without fussy maintenance. It also provides the beautiful woodgrain patterning found in raw timber, but without all the risks of natural wood. Due to its cement-based composition, fiber cement siding will keep a Colonial house in exquisite shape, thanks to its high level of weather resistance.
Another benefit of fiber cement siding is that it's available in a wide variety of styles in line with classic Colonial house exteriors. Whether you want horizontal lap, shake, or vertical board and batten — all of which can be seen in traditional Colonial houses — fiber cement provides all of these options.

Refreshing your home with modern materials while honoring classic Colonial house architecture is possible! Contact Allura today to explore reliable fiber cement siding options that will recreate the beauty and possibilities of white Colonial homes with black trim.