Wide siding for house exteriors is an alternative style to consider that adds unique character to a home and helps it stand out from others on the block. Instead of taking a one-size-fits-all approach to remodeling, learn about the various siding choices that are available and craft a unique exterior that you'll love for years to come.
Wide Siding for Houses – What Are the Options?
Siding width is something that homeowners usually don't think about – even during an exterior overhaul, but dimension can actually make a big difference in the finished look of your home. Even subtle changes, like elongating the width of the lap panels, can alter the overall appearance to achieve a different aesthetic. It's important to pay attention when shopping for house siding.
Lap siding is one of the most recognizable and classic exterior choices around, and it tends to look beautiful on virtually any architectural style. In addition to color, texture, and material type, you'll also need to consider the dimensions of the lap siding panels when remodeling the home's exterior.
Standard lap siding panels have an average width of 5 inches to 7 inches. On lap siding, the width is the vertical measurement of the panel. Anything that measures less than 5 inches or more than 7 inches in width is considered atypical. These outliers (less than 5 inches or more than 7 inches) are the measurements that start to have a greater impact stylistically, since their width is more noticeable when it comes to the finished appearance of the home.

How Does Width Affect the Appearance of House Siding?
Siding width does make a difference. Thin lap – panels that are less than 5 inches in width – tend to look antiquated, as they communicate a very specific colonial style that is not commonly seen today. Thin siding is usually only used for secondary structures, like garages, or accent walls on the exterior of the house. The narrow dimension of thin siding can also affect installation techniques, depending on the material being used.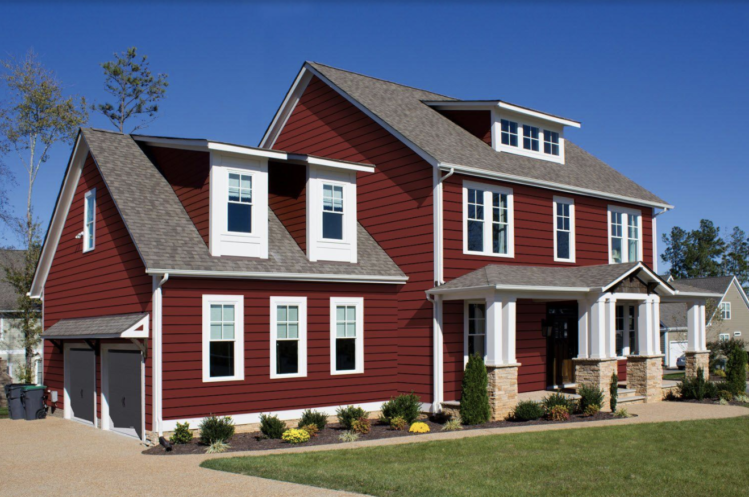 Wide siding for house exteriors is considered a more contemporary style. Wide lap – panels that are typically greater than 7 inches in width – have an attractive modern appearance, which makes it a popular choice to consider in today's residential market. In addition to style, some designers suggest that wide siding for house exteriors can actually play a subtle trick on the eye and make the home appear larger than it is.
Ultimately, the decision comes down to the homeowner's stylistic preferences. The truth is, when you're discussing aesthetic value, there's a lot more to keep in mind than just the width of the lap siding.

Durable, Pre-Finished Siding From Allura That Beautifies the Home
Durability, long-term performance, and color quality are other aspects that can make a big difference when it comes to assessing the aesthetic value of house siding.
Fiber cement is considered a more durable option than traditional wood and vinyl lap. Allura fiber cement cladding has a unique composition that gives the siding incredible flexibility and strength. Capable of standing up to the elements and resisting wear and tear, fiber cement lap from Allura is better equipped to maintain its original appearance, season after season.

This cuts down on seasonal upkeep and siding repairs – one of the biggest things homeowners look out for when shopping for durable, high-quality exterior products, in addition to aesthetics. Whether sticking to a standard lap siding style or trying a wide siding style for your home, durable, low-maintenance products are always the way to go to avoid costly repairs and chores down the line.
Another advantage of Allura fiber cement is that it comes pre-finished. Curated colors are infused into the lap house siding during the fabrication process, meaning you don't have to worry about on-site painting mishaps. Not only do pre-finished lap panels save you time and hassle during the installation process, but they also deliver a higher level of color consistency that you can count on to get a polished, blemish-free appearance for your exterior – one that lasts year after year!
Plus, different styles give you the selection you're looking for in order to create the home of your dreams. Allura specializes in crafting a variety of beautiful fiber cement siding products in many different styles, so you have lots of choice when remodeling a house exterior. This includes two different surface texture styles – smooth and wood grain patterns – which can add different aesthetic qualities to your home.

Color, texture, style – there are so many beautiful options to choose from when designing your exterior with Allura fiber cement siding!
In addition to the aesthetic possibilities, you'll have the confidence of building with a durable, low-maintenance product that makes it possible for your home to maintain its attractive appearance for years to come.
Contact Allura today to explore a variety of house siding products crafted from gorgeous, long-lasting fiber cement.