Fiber cement siding is a super-strong exterior option for a home that provides exceptional protection from the elements. It is long-lasting and requires very little maintenance. As is often the case with any building material, proper installation is key for fiber cement to reach its full potential and protect the home properly. Using the right nails for fiber cement siding is one detail that makes a big difference.
So, what size nails need to be used for fiber cement siding? What type? Does the nailing technique matter? Let's dive into all these questions about fiber cement siding nails so you can work with confidence.

Highly Durable Fiber Cement Siding
Unlike natural wood, vinyl, and other old-fashioned siding materials, fiber cement delivers a superior level of strength that keeps damage and deterioration to a minimum. Traditional building materials may chip, peel, fade, and show serious signs of weather damage, but fiber cement is able to maintain its original allure without much effort at all.
How? Because of its innovative composition, fiber cement has a longer product lifespan. It consists of a unique blend of cement, sand, water, and cellulose fiber that ultimately results in greater durability and weather resistance. Using the right nails for fiber cement siding — and installing them in the right way — can be very important if you want to enjoy all the advantages this material affords.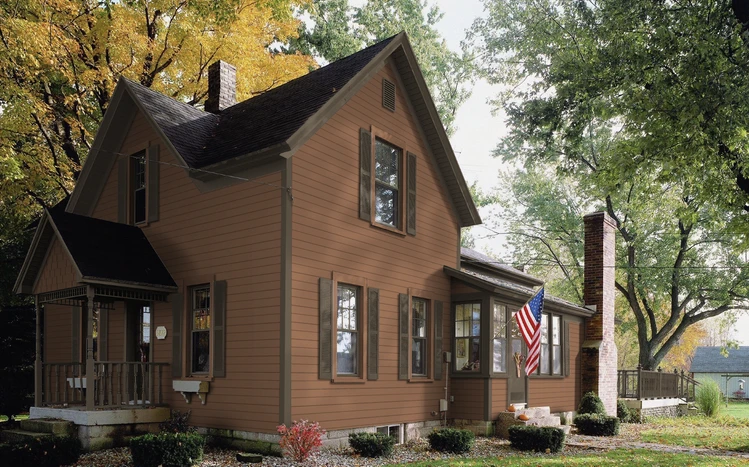 Hand Nailing vs. Nail Gun Technique
First off, let's discuss technique. Some homeowners may be worried that nailing in the siding boards by hand may not be as effective as using a nail gun, while others may assume that a nail gun will send the nails too deep into the siding. The good news is that fiber cement siding can be properly installed using either of these two techniques, so it really comes down to personal preference.
Each technique has certain pros and cons. For example, hand nailing can take a much longer time than using a nail gun. However, a nail gun can be intimidating for a homeowner without much experience, thus making hand nailing a safer option. Both of these techniques can get the job done correctly. What's really important is that the nails are driven cleanly and perpendicular to the surface. It's essential to avoid driving the nails at an angle, since it can compromise the long-term potential of the fiber cement siding.

Best Nails for Fiber Cement Siding
Galvanized or stainless steel 6D and 8D nails are typically considered the best nails for fiber cement siding because they are the appropriate size and offer reliable durability. It is advisable to avoid using electro-galvanized nails, and highly recommended to opt for corrosion-resistant, hot-dipped galvanized nails, if possible.
The length of the siding nails really depends on the thickness of the planks. For example, Allura shake has a thickness of ¼-inch, while Allura panels and lap each have a thickness of 5/16-inch. Pay attention to the thickness of your fiber cement siding, because it may affect the ideal nail length for your particular project. Fiber cement nails should be chosen so that they are able to penetrate the solid wood by at least 1 ¼-inches deep.
It can also be smart to consider the finished look of the fiber cement siding nails. Especially in noticeable areas like siding, it can be a good idea to ensure that the nail heads match the exterior flawlessly. Shop for color-matched, hot-dipped, galvanized nails that are identical in color to your fiber cement siding to save time.

High-Quality Fiber Cement Siding from Allura That's Beautiful and Strong
Fiber cement siding is often chosen because of its superior strength and long-lasting beauty. Allura offers a wide variety of fiber cement siding styles, including lap, shake and smooth architectural panels, providing homeowners and designers with an abundance of design opportunities. No matter which style catches your eye, you can be confident in your choice, because Allura fiber cement siding comes with a 30-year Transferable Limited Product Warranty that speaks to its durability.
Allura also offers fiber cement trim, beadboard, and soffit, so you can outfit the entire home with a durable exterior material that looks great and matches perfectly. With 25 colors to choose from, it's fun and easy to find your own unique options to beautify the home. Go bold with a vibrant color or keep it classy with a natural, wood-style look. There are so many ways to mix and match Allura's fiber cement products to create the home of your dreams.
Ready to start exploring the options? Contact Allura today to discover a wide range of heavy-duty fiber cement exterior products that will provide strength and beauty for many years to come.