Light grey is a color that has soared in home design trends recently. Calm and sophisticated, light grey is a subtle hue that can be used to execute a homeowners' unique design goals, which is why this neutral color is used generously for interiors and exteriors alike.
When it comes to using light grey house siding, a slight change in an accent color or trim can transform a home's look, so it's important that homeowners understand every look they can achieve from light grey with white trim.
Embellishing a light grey house with white trim is one of the most popular design schemes. Somewhat unconventional, selecting white trim to contrast against light grey siding can create bold angles that accentuate architectural details without being too flashy or overstated. Instead, light grey with white trim creates a fresh, crisp appearance that looks great in the suburbs, in urban areas and in the countryside. The versatility of this modern color combination is one reason it has experienced such a quick rise in popularity.
Light grey houses with white trim are popping up left and right, but home design professionals will point out that not all light grey homes with white trim look the same! In fact, you can achieve quite a wide variety of characteristics when designing a light grey house with white trim. Adding certain features, accent colors, or exterior styles can truly add unique character to a light grey home with white trim.

1. Add Black as an Accent Color
Light grey and white are both neutral tones that carry a generally soft and soothing look. Adding black as an accent color can help keep these tones grounded while also boosting the exterior design's depth. Shutters, entryway doors, garage doors, curtains, awnings, and porches are great areas for introducing black as an accent color.

Homeowners should never settle with choosing the first shade of grey they come across. There are many variations within this color family to explore, including some warmer grey tones that complement white trim in a fresh way. Warm grey siding with white trim tends to look best when other warm colors are present in the design, such as the roofing.

Lap siding is always a smart choice with neutral tones, like light grey with white trim. The horizontal layout of lap siding adds visual texture to the exterior, which can boost character and impact.

4. Create a Bold Look with Two-Tone Siding
Another fantastic color scheme includes the introduction of another hue for a two-tone siding layout. Cream and beige are excellent choices for pairing with light grey and white, though darker colors like forest green and maroon can also work well. Regardless of which colors are selected, two-tone siding applications tend to be easier to achieve when the home features natural breaks in architecture, such as separate levels or pronounced window areas.

Light grey with white trim can achieve an entirely new look when just a slight hint of color modifies the siding's overall tone. Blue-grey siding is a fine example; the subtle hint of blue shifts the light grey siding into a new palette without clashing with the white trim.

6. Go for a Shingled Look
Similar to lap siding, shingles can be an excellent way to bring texture and depth to neutral siding colors, like light grey. This added dimension and texture can boost character, while the crisp white color of the trim, soffit, and windowpanes effectively outlines the home's features.

7. Use Two Different Siding Textures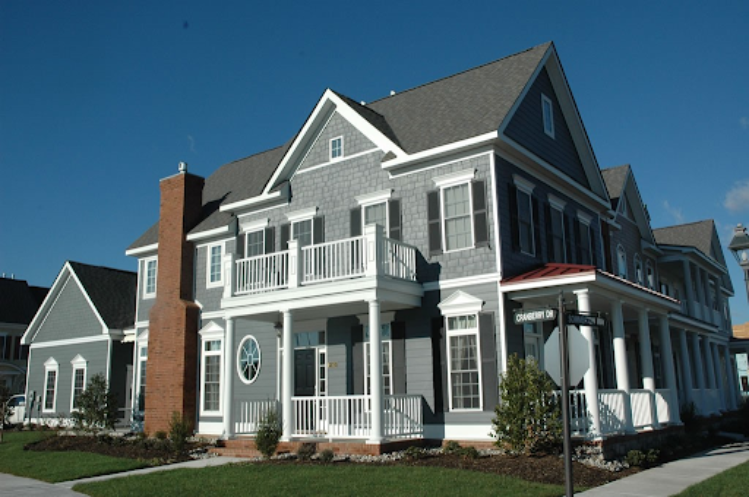 If creating captivating character is the goal, homeowners should consider using two different siding textures on separate exterior surfaces. For example, go with lap siding across the ground level and shingle siding on the second level. Since light grey siding with white trim has a very clean look, it's the perfect color palette to play with texture.

Light grey with white can create unique charm when applied to traditional structures, like barns. With that said, barndominiums offer much more than meets the eye, which is why this modern, sophisticated color combination is an excellent choice for hybrid buildings with chic living quarters inside, like upscale barndominiums.

9. Pair Grey Siding with Natural Stone
Adding natural stone features to a light grey house with white trim can be an ideal way to boost texture, warmth, and character within a unified color palette. Many natural stone colors fall within the grey color family. Adding an assortment of these stones along a clearly defined exterior area can bring natural charm and warmth to the home without compromising the color scheme.

10. Choose a Colorful Door
Because the light grey and white color combo tends to be quite clean and neutral, many homeowners decide to introduce one strong pop of color at the door for a complete look that attracts the eye to the home's focal point: the entryway. Sometimes primary colors can be a bit too strong for a light grey and white exterior, but fresh variations of these colors, like rust, butter yellow, teal, or light green, can be the perfect cherry on top of the cake for knockout curb appeal.

11. Add a Natural Wood Accent
Whether integrated into the porch, awnings, or shutters, natural wood accents create a rustic charm to boost a home's exterior character and overall comfort. In particular, wood with a naturally light color, like oak and maple, can complement a light grey house with white trim very well.
Sometimes a surprising accent color can be just the thing needed to spruce up the exterior and add a counterbalance to a light grey house with white trim. Rust, crimson, or carmine - red tones are perfect pairings for light grey when added as shutters, awnings, and front doors.

How to Shop for Light Siding and Trim
With a little bit of creativity, you can transform a light grey house with white trim into a one-of-a-kind residence with personalized flair and unique charm. If you're looking for light grey siding and white trim products for your home, contact a home exterior specialist at Allura today.