Get on board with grey! Not only is this classic color rich with potential, offering a myriad of tones, it's also considered a soothing neutral, which makes it prime for modern home designs. Grey house exteriors are common in new buildings, but older architecture can benefit from this calming color palette as well.
The key to creating the perfect modern grey house exterior color scheme is to pair your pick of grey with the right features to complement its dimension. This means incorporating texture, color contrast, and alternative material choices into the mix.
Not sure where to start when it comes to picking the perfect grey palette for your home? Take a look at these 17 modern grey house exterior color schemes as a starting point. Note the use of materials and exterior features that bring this base color to life.

1. Pronounced Pillars

This home has a lot going on in terms of color, texture, and material applications. The bold white pillars create a focal point to draw the eye directly to the entryway and center the home.

2. Dark Grey with Beige

Believe it or not, this siding is a very dark shade of grey! When paired with beige and white trim, it takes on a greater depth that almost tricks the eye into thinking it's black in color. The right partner colors can do that, emphasizing the vast potential of grey house exterior color schemes.

3. Grey Board and Batten as an Accent

Contrasting with the dark blue lap, a light grey was selected for the board and batten to emphasize the architecture and create segmentation on the exterior.

4. Grey as a Base Color

Here, the dormers and garage doors are matching, bringing a lot of light color that effectively lifts the darker grey siding used as a base throughout the exterior. This brings a pronounced look to the architecture.

5. Transitional Modern Style

Sloped rooftops are a sure sign of mid-century modern inspiration. However, this distinct style is paired with two very modern shades of grey, making this home an excellent example of the transitional modern style, which blends classic and modern design.

6. Classic Colonial Style

Historical homes can get a fresh facelift with modern grey house siding, too. Here, a very light shade of grey flatters the simple colonial architectural style. Dark shutters add extra flair and depth to this otherwise understated style.

7. Blue-Grey Siding with Stone

Stone is a fantastic feature to incorporate in clean, modern home designs because it brings a touch of elegance and strength to the home's appearance. When selecting grey siding to go with stone, be sure to choose a color with a slightly different tone, such as a blue-grey, to help distinguish the siding from the stone without straying too far from the color palette.

8. Dark Grey Siding with Seamless Corners

Darker shades of grey can conjure up feelings of stability and strength, making them an ideal choice for exterior color schemes. Seamless corners with mitered siding planks can help achieve a smooth appearance that adds to the effect.

9. Two-Tone Scheme with Charcoal Grey

Charcoal grey is a fantastic modern exterior color that can be used with a wide range of architectural styles. To keep the modern charm alive, choose a boldly contrasting color, like cherry red, to play off the dark charcoal color.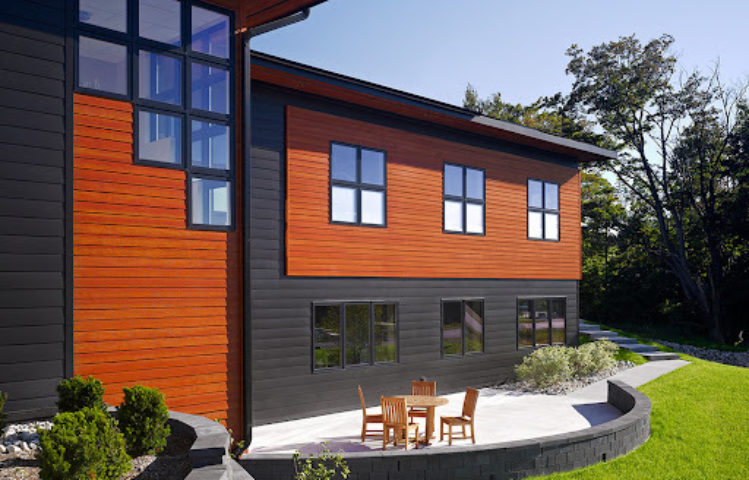 10. Going All In on Texture

Many modern exterior schemes use texture to create intrigue. This can be done with different siding styles, like shake, lap, and board and batten. A dark grey color further intensifies the texture, creating an invigorating appearance.

11. Dark Grey Roofing and Siding

Matching the roof with the siding is an unconventional choice, but it can look fantastic when done right. Here, white trim, gutters, and soffit are used to break up the architecture just enough to distinguish between the two.

12. Bold Red Trim

Red is rarely used as a trim color, making it a great choice for homeowners who want to go with something different. Dark red looks best when it has a light grey to pop against.

13. Classic White Trim

White trim, shutters, and porches look fantastic with almost any color of siding, including every shade of grey.

14.Grey Wood Grain Siding

For a refreshing modern grey exterior color scheme, consider going with a wood-style siding that showcases intricate grain patterning. There are many fiber cement siding products that feature this wood-inspired style.

15. Light and Airy Grey Siding

Fresh neutrals are a key component of many modern homes. Keep a light and airy appearance by choosing a super light shade of grey siding with white trim.

16. Stately Entrance

A robust line of pillars is a great way to elevate modern grey siding and make the exterior look more stately and sophisticated.

17. Natural Brown Tones with Grey

Not all grey siding has to have crisp white trim! A brown palette can also work well with modern grey house exterior color schemes, as long as the color usage appears intentional and organized.

Look to Allura Fiber Cement Siding to Achieve a Modern Grey House Exterior

There are many wonderful design options that show off modern grey house exterior color schemes. Contact Allura today to find all the grey siding products you need to bring these styles to life.