Showing off a beautiful balance of gray, slate, and beige tones, pewter colored siding is an excellent choice for homeowners who value versatility. Depending on the tone of surrounding trim, it's not unusual for the pewter siding color to take on a distinct appearance when paired with different architectural styles, roofing colors, and other exterior features. The ability to transform a home and achieve different looks is one of the strengths of pewter colored siding.
Not sure how to integrate pewter siding colors throughout your home's exterior? Take a look at these nine innovative home designs — all of which utilize pewter siding color in a unique way to achieve a memorable look.

1. Combined Textures with Dark Pewter Siding
Some homeowners are hesitant to try dark pewter siding colors, however, a richer tone has some unexpected advantages, like the ability to mix and match textures without losing a cohesive look. For example, dark pewter siding allows homeowners to feature both shake and lap siding on their home's exterior while still appearing chromatically seamless. This two-textured pewter siding approach is particularly popular for multi-level homes with dormers and gables.

2. Pewter Siding with Gray Stonework
Stone features found throughout the exterior and the surrounding landscape can strongly benefit from a pewter siding color in the same hue, which helps to create a fluid appearance and intentional colorwork. Since some types of stone commonly have flecks of white or brown, the minor color irregularities can add just the right balance of texture and distinction to set the stonework apart from the smooth pewter colored siding.

3. Pewter Siding with Red and Brown Tones
Not all pewter siding colors are limited to neutral hues. Warmer shades of pewter siding look amazing with red and brown tones, too, capturing a provincial charm that's reminiscent of traditional farmhouse styles. Diving into this side of the color wheel creates an exterior that feels welcoming and warm — an inviting aesthetic that many homeowners are looking for when designing their dream home.

For a modern spin on the Victorian aesthetic, homeowners can consider accenting their pewter siding color with crisp white trim, which brings a bold brightness to the home's exterior. Commit to the look by using the same shade of white for the porch banisters, windows, trim, shutters, soffit, and foundation, if possible. Any shade of white can do the trick, including eggshell, off-white, and even cream color.

For modern buildings, accenting a pewter siding color with thin lines and asymmetrical segmentation is wildly popular. Emphasizing a regimented linear layout is fundamental, even if there are other features, like wood or light-colored stone, making an appearance in unexpected places. The key to pulling off this look is to use thin lines to divide pewter siding with a starkly contrasting color, like white or cream. The visual effect is striking and can make any modern home look like a masterpiece.

6. Dark Roof and Trim Color
Another approach to using a pewter siding color effectively is to pair it with a similarly dark tone, like black or charcoal. The gentle color contrast is not the flashiest of trends, but it is an established style that feels comforting and safe — the precise type of curb appeal that many homeowners are looking for when pulling into their driveway.

7. Board and Batten Style
Pewter siding looks great in a variety of formats, including horizontal panels, vertical layouts, and shake. In particular, board and batten is one of the most popular trends for pewter siding at the moment. Pewter siding tends to be darker than many traditional colors, so it creates a subtle design when applied as board and batten, bringing an excellent amount of detail to the exterior without becoming overly saturated with texture.

Pewter siding is also ideal for mixing and matching with other building materials and textures, including variegated stone, horizontal paneling, and shake. When working with a multicolored material, like stone, select a pewter siding color that matches one of the featured hues. This will allow the pewter siding to play off of that color and draw the different textures together visually, for a harmonious look.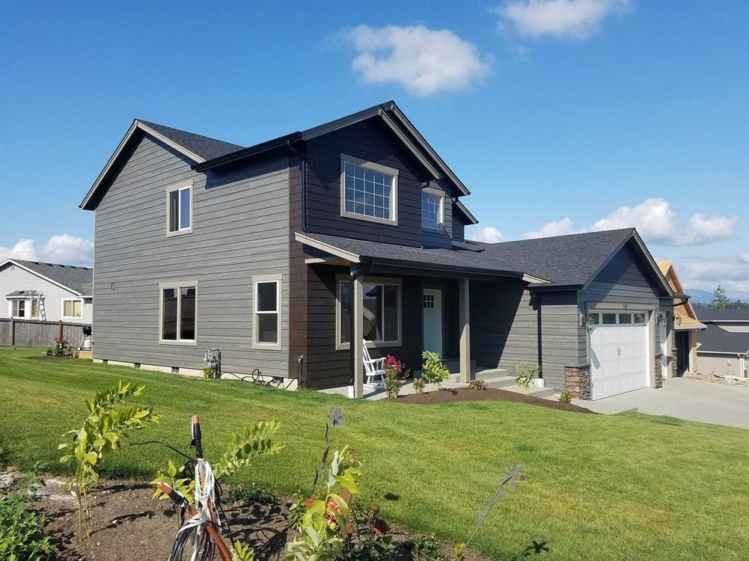 One siding color that has gained a steady following in recent years is slate. Capturing a lighter shade of pewter that appears gently stonewashed, this particular tone looks amazing with a variety of other natural features, like dark-colored roofing, natural wood, and stonework. It blends effortlessly with other earthy tones, making this pewter siding color easy to work with in order to produce a variety of looks.

Get On-Trend With Pewter Siding
Pewter siding has the potential to achieve a great range of styles. By intentionally combining pewter siding with other exterior features, homeowners can create excellent curb appeal and a memorable home appearance.
Contact the siding experts at Allura today for more information on fiber cement products and popular styles.