Have you heard of the transitional modern style home exterior trend? If not, now is the time to familiarize yourself with this refreshing design approach. Whether you're building a new home or remodeling and introducing upgrades, a transitional style home exterior can propel your home's curb appeal and value. Take a look at this innovative design approach and check out our examples for some serious design inspo.

What Is the Transitional Modern Exterior Style?

First things first — what exactly is the transitional modern exterior style? Blending traditional architectural features with a new, modern approach, this exciting style can really feel like somewhat of a chameleon. It teeters between traditional and contemporary styles, including elements from both to achieve a refreshing balance. The finished product feels fresh yet familiar, and distinct elements from modern and traditional design are both included.

Key Features of Transitional Modern Homes

Not sure how to spot transitional style home exteriors? Look for these key features: neutral color palettes, emphasis on texture, minimalist decor, clean lines, and lots of natural light.
Those are the big takeaways that are almost always present in some shape or form, but there are many other details included in this exciting style. Transitional style homes often have exteriors that are rich in creativity and combination, so that materials, colors, and functional spaces mesh together in a way that feels natural and new.

Transitional Home Exterior Inspo

The more transitional style exteriors you see, the better you can grasp the vast potential of this exciting style. Take a look at some of these great examples of transitional modern style home exteriors, and be sure to note the different elements at play:

1. Rich Wood Grain Browns

This transitional style showcases the rich color dimension found in a natural, wood-inspired palette, and the angled exterior reflects the influence of traditional mid-century modern design.

2. Clean Lines

Notice how measured this outdoorscape appears — clean lines accentuate the frame of the home, which is mirrored by the rectangular fire pit.

3. Modern Angles, Fresh Colors

The rooftop slope is a signature style of mid-century modern design, yet the crisp white exterior with black trim brings a fresh perspective to this transitional style exterior.

4. Corner Windows

Natural light is an essential element of transitional modern style homes, and this structure showcases massive windows, including several corner windows.

5. Modern Rooftop, Classic Color Palette

Recognizably modern in its architecture, this home has a traditional colorscape and style on the exterior with light blue-gray lap siding. The result? A soothing balance.

6. Bold Gray Exterior

Gray tones are a go-to for clean, modern designs, with bold applications more than welcome. This home reflects that blend of traditional architecture with a modern touch.

7. Modern Barndominium

Barndominiums are excellent examples of traditional architecture refreshed with modern aesthetics. Clean lines and fresh neutral colors bring the transitional style exterior to life.

8. Farmhouse Siding in Modern Palette

A key feature of the transitional style modern home is the ability to blend, or mix and match, features. Here, a diverse color palette brings fresh energy that still feels crisp and refreshing.

9. Material Texture

Texture is another important component of transitional style homes. Utilizing various materials, like brick, board and batten, and shake shingles, in a side by side design can create excellent visual texture that enlivens the exterior.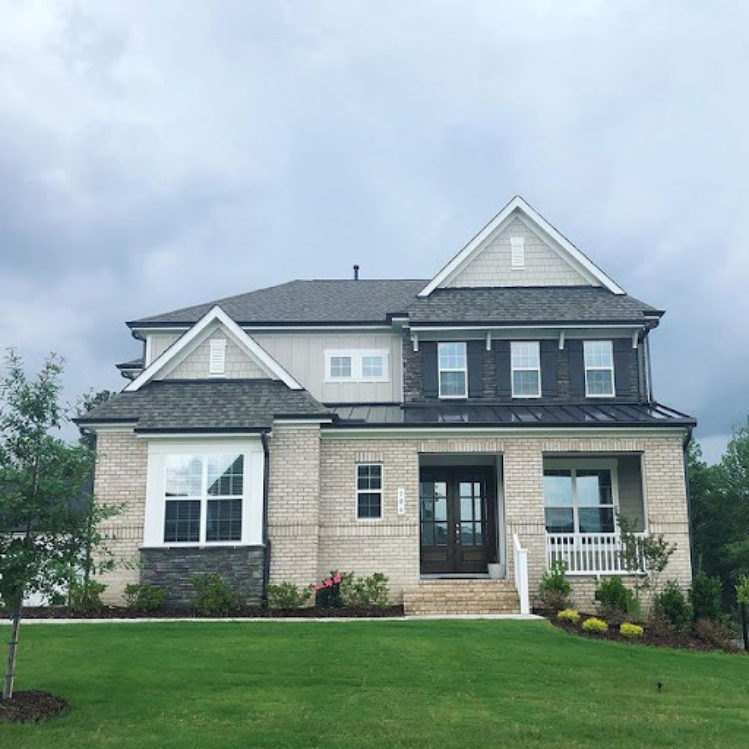 10. Stylized Siding

The transitional style can also be achieved by using two different directional layouts for the siding. Vertical board and batten alongside horizontal lap can be a creative way to conjure up the creativity that is key in transitional modern homes.

11. Two Worlds Collide

Making daring design choices and experimenting with unconventional combinations is fundamental to the modern transitional style. Here, the energy of the sage green siding jumps against the bright red brick entrance for a captivating look.

12. Cascading Exterior

Landscaping can also be incorporated into the overall exterior design plans. Here, the natural rock feature mimics the multi-level architecture in a natural yet clean-cut way.

13. Unexpected Emphasis with Color

Bold colors can draw attention to certain architectural features that otherwise get overlooked. Here, a bright color on the rooftop looks great against neutral beige siding.

14. Natural Exteriorscapes

Natural elements are a common feature in transitional modern home designs. The garage and home are on different levels, yet they're united seamlessly with the outdoor garden and patio space.

15. Multiple Accent Colors

In traditional design, accent colors are used sparingly. Transitional homes celebrate more daring applications of color. Take a look at the bold red and blue siding on this home.

16. Brick and Stone

Brick and stone create a wonderful combination in this transitional modern home, and the accentuated color contrast draws the eye to the entryway.

17. Neutral Colors with Modern Arrangements

The isolated stripe of dark brown siding brings a surprising twist to this transitional home's exterior, yet it works as a great complement to the white and gray tones also present.

18. Shake and Lap with a Brick Base

Another example of experimenting with texture, this home pulls off a clean, sophisticated, and welcoming look by finding the right combination of shake and lap siding with a contrasting brick foundation.

Utilize Allura Fiber Cement Siding for a Transitional Modern Style Home Exterior

While aesthetics and design progress, so do materials evolve to create better siding than ever before. Fiber cement siding allows for modern aesthetics while providing strength and longevity that can be relied upon. Contact Allura today to explore the options!