These days, homes are being asked to do more than ever. People are sticking closer to home — homebasing— choosing staycations and looking for ways to keep up their productivity in spaces that are doing double, and sometimes triple, duty. This means they need to update their homes with the right products that are durable, to hold up to constant use, and beautiful, as they'll be looking at it every day.
So how does homebasing impact your business as a building materials dealer? Homeowners will be looking to you to help them pick the perfect product for their needs.

The needs of homeowners, and therefore, building professional, are becoming more specific and non-negotiable. According to research from Trusted Media Brands, "America is becoming a nation of homebodies."
In fact, 78% of Millennials would rather stay home than go out — and a vast majority of homeowners have the same sentiment. "Instead of filling their free time with active, social events, modern American families are more often opting to stay in, surrounded by a close circle of family and friends in the comfort of their own home," reported Trusted Media Brands.
Dealers in the building and construction industry, take note. This trend of home-basing means homeowners — and therefore builders and contractors — will want to improve the space that they're in. They need to feel like their home is truly a source of comfort, pleasure and safety, while maximizing every inch of space.

Make Every Square Foot Count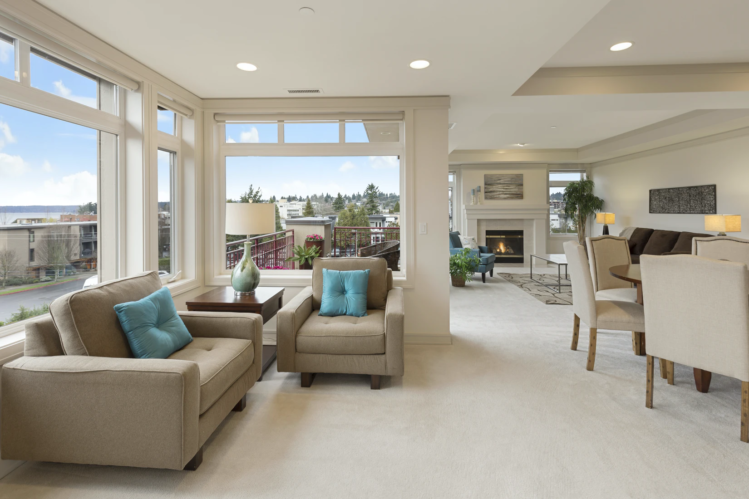 Whether homeowners are looking for new builds or planning to remodel or renovate their existing space, they're going to want every single square foot to work for them.
What used to be a vaguely defined family room now needs to function as a virtual school, home office and entertainment center. The dining room doesn't host as many dinner parties as it used to; instead, the space is the site of in-depth conference calls and rowdy family game nights.
Dealers who can offer features to help homeowners and builders take advantage of every corner of homes will have a leg up on the competition, not only offering value-added solutions but also creating buzzworthy features that families will love to talk about with friends and family.
Some of the design trends we're seeing include:
Scalable storage and working options. A desk doesn't have to always be a desk. Collapsable products mean your desk can fold away, or scale down to become shelving.
Custom entertainment solutions. Any night can be family movie night now, but as TVs get bigger and bigger, they're taking up room that might be otherwise used for shelves and storage. Installing a screen that rolls away, or offering custom shelving options keep the living space organized while still providing hours of fun.
Bring back classic features. Murphy beds have a retro feel, but with fewer overnight visitors these days, a dedicated guest bed takes up space that might otherwise be used for a playroom or home office. Foldaway options, sectional sofas and other clever furniture designs mean that space is freed up for everyday use.
A great vacation includes lots of sunshine and fresh air, and a memorable staycation really shouldn't be any different. More and more, homeowners wanting to maximize their living space are looking outdoors. Whether they want a backyard refuge, or a night-time hot spot, offering custom outdoor design features turns a home into a haven.
An upgraded deck or patio helps create a whole new outdoor living space for families to enjoy. Whether they want to have a drink with friends, or they're looking for a quiet place to work, an expended or even multi-level deck creates a whole new space to escape.
Homeowners are also reporting they're investing in features they wouldn't have considered a few years ago. Whether it's a hot tub to help soak off stress or an outdoor kitchen to show off new favorite recipes, demand for more elaborate outdoor spaces is on the rise — which means builders and homeowners are turning to dealers to provide quality products that can handle constant use both indoors and out.

Prioritize Durability Without Sacrificing Design
The rise of homebasing means that, more than ever, homeowners are expecting building materials to last and stay looking great. There's no escaping that leaky window or cracked siding when the majority of your time is spent near it. And with extreme weather on the rise, home exteriors are facing conditions that were barely considered in the original design.
Whether it's hurricanes, wildfires or once-in-a-century snowstorms, building materials have to stand up to a lot, even more than standard building codes often require. Dealers should offer them materials that:
Are tested to the highest standards for long-term performance and strength.
Provide exterior and insulation materials that contribute to the energy-efficiency of the home.
Come with a warranty that guarantees the product over the life of the home.
But a product that's going to last isn't enough. It needs to look great, too. Remember that homeowners are going to spend a lot more time looking at every inch of their home than they did in the past.
A product like fiber cement siding ticks all the boxes when it comes to balancing durability and design. Rated for extreme weather and available in a variety of colors and styles to suit every aesthetic, fiber cement brings homeowners the peace of mind homeowners and builders want — and looks great for decades with minimal maintenance.
Allura offers dealers, builders and homeowners a long-term solution with one of the industry's best warranties, and is committed to reliability and the success of any home design. Check out the range of products that Allura offers, or help your customers test out a new look for their exterior by clicking over to our design visualizer.