While there is more than one player in the game when it comes to fiber cement building materials, Allura is the top contender. It's important to trust both the product and the people you choose for your next project. Taking on any building project is enough of a headache as it is, so choosing a durable fiber cement siding that's easy to install is a wise decision.
Allura fiber cement is the preferred choice of homeowners, builders, and dealers. In comparison to James Hardie, Allura's fiber cement siding benefits, nationwide support, and industry-leading warranty make it a solid choice, even over Hardie fiber cement products.

However, since we know we may be a little biased, we decided to put together a comprehensive comparison of each company's siding, shakes & shingles, trim and soffit offerings, including sizes available, colors available and anything extra that makes a product stand out. We also look at overall benefits from each company, including durability and warranty.
If you want the TLDR version, skip to the end and we'll give you a wrap up of how the two brands stacked up against each other. But first, let's look at why you should choose fiber cement for your home's exterior in the first place.

Benefits of Using Fiber Cement for Home Exterior
Fiber cement siding, regardless of the manufacturer, has a range of benefits over other siding materials. Out of all siding building materials, fiber cement is proven to provide the best return on investment (ROI) for the past seven years in a row: According to Remodeling Magazine, after examining 35 home improvement projects, fiber cement siding provided an 84.3% ROI.
Fiber cement siding, in general, has a lot of positive attributes, and there are many that Allura and James Hardie share. Not only does fiber cement siding add value to your building, but fiber cement siding is also incredibly durable. It is insect-resistant, fire-resistant, and moisture-resistant.
Fiber cement siding has a Class A fire-resistant siding rating and holds up better in hurricanes, hail storms, bug infestations, and wildfires than vinyl or wood siding. Installation is much easier and quicker than stone or brick.
However, there are differences between Hardie and Allura siding that you should know before deciding which manufacturer to use.

Allura manufacturers both a smooth lap siding and wood grain (traditional) siding in six sizes:

5 ¼" x 12'
6 ¼" x 12'
7 ¼" x 12'
8 ¼" x 12'
9 ¼" x 12'
12" x 12'
The wood grain gives a look and texture that is indistinguishable from real wood, and the wood grain is visible from a farther distance compared to all other brands on the market.
Allura's options are available in their primed traditional lap siding (with its stunning wood texture) and in a primed smooth option, both of which are ready to paint, as well as in their pre-painted full range of colors and stains. Allura's colors are applied using their patented, innovative coloring system.
This prefinished system ensures a smooth application of paint or stain with a gorgeous matte finish. It seals in color to make it resistant to weather and outdoor use. The paint and durability of a baked-on factory finish cannot be matched when painting siding after it is installed. Allura offers a 15-year warranty on its finish (along with their 50-year warranty on the physical product).
They also offer 7" Perfection Shingles. These are lap siding boards 12' in length (7" exposure) that look like shingles, so homeowners get the look they want without contractors having to put up thousands of individual shingles.

James Hardie also makes a smooth lap siding and a wood grain siding (CedarMill). Their CedarMill and smooth lap are available in six sizes:

5 ¼" x 12'
6 ¼" x 12'
7 ¼" x 12'
8 ¼" x 12
9 ¼' x 12'
12" x 12'
James Hardie and Allura's main difference in types of plank products is the full breadth of options. Allura has more color options that are pre-painted versus primed for paint only. James Hardie's primed boards are always available, but their pre-painted board availability can be limited and needs special orders due to a limit in stocked colors.

One of Allura's most significant advantages is that it has a wide range of additional products with different finishes to allow your project to stand out. If you choose Allura, you'll have accent products like shingles, trim, or soffits in more than 30 matching pre-painted colors and stains.
Allura has several different shingle lines to choose from, all of which are available to paint and in their full range of 25 colors and 5 stains. Their six size options are:

5" Straight Edge
7" Straight Edge
7" Shake Select
8" Individual Shakes
Half-rounds
Octagons
Allura also offers shakes, which can have either a staggered or straight edge, and are available primed and ready-to-paint. In comparison to shingles, shakes give you the look of multiple individual shingles in one single panel.
Allura shakes come in their Traditional Cedar texture In addition, Allura offers free use of their Visualizer technology, which allows you to view your siding and color options online first to help you (or your client) feel confident in your choice.

With Allura, 30 proprietary colors ensure unparalleled protection against the elements and bring out your style in a gorgeous palette of eye-catching designer colors.
The 7" Shake Select line, however, is the perfect choice for homeowners who want that New England wood shake look. The pattern is randomized, so you can't tell when the pattern repeats, giving it a realistic wood look that you can't get from shake that has repeating patterns, such as Hardie.

James Hardie has a much smaller range of shake and shingles options, but all are available in their full range of colors and ready-to-paint options. Their four size options for shingles are:

7" straight edge shingles
7" staggered edge shingles
7" individual shingles
Half-rounds
Allura trim is made from our specially-formulated, durable fiber cement with one side smooth and one side textured. Allura Trim complements any siding product, and the machined square edges ensure a superior look and finish. These are the sizes available in a 12' length, all available in 25 pre-painted colors and 5 stains:

Allura also offers Tundra Trim, which uses our patented mineral-based composite technology instead of fiber cement, making it incredibly light, yet remarkably strong. No matter where you build, you can rest assured that the weather will be no match for this exciting innovation in trim.
You can also get a Board & Batten look using Allura's products by installing trim over smooth panels, and our wide range of colors available ensures that our customers have all of the finish options.

James Hardie offers its HardieTrim boards to accentuate corners, columns, fascia, doors, windows, and more. There are six options, with the first three available in pre-painted colors and the last three options available in primed only:
4/4 Smooth
5/4 Smooth
Smooth Batten Boards
4/4 Rustic
5/4 Rustic
Rustic Grain Batten Boards
Soffits are integral to the rafters of a roof and serve important functions ranging from aesthetics to helping keep your utility bills in check. Your roof, by necessity, will oftentimes extend over the walls of your home. The underside of the overhang, when given a finished appearance, is known as the soffit.
Allura's soffit products come in a wide range of colors and stains so you can easily coordinate your siding and trim to get a cohesive look that will complete your curb appeal. The product options for Allura are:

James Hardie offers their soffits in both smooth and vented profiles. The product options for James Hardie, which only come in two pre-painted colors or in primed, are:

Vented Smooth
Non-Vented Smooth
Beaded Porch Panel
Non-Vented Cedarmill
VentedPlus Cedarmill
Vented Plus Smooth
Compared to James Hardie, Allura's advanced formula makes for a more durable finish. It is specially formulated to provide superior protection against the elements, including hail. Each piece of Allura siding is sealed for maximum resistance to inclement weather and exterior impact. The sealant actually penetrates the boards and bonds with the fiber cement material.
The proprietary finish technology is a major reason why builders of high-end homes and luxury properties prefer Allura for their fiber cement siding.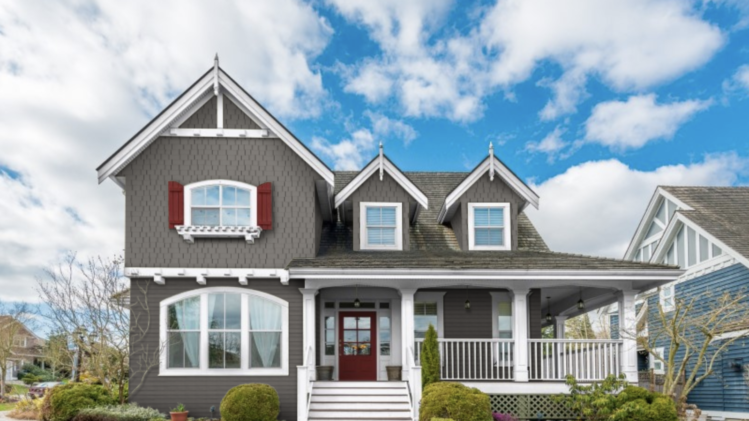 HardiePlank is largely still produced the same exact way it was first formulated in the 1980s. It uses a wood pulp slurry mix with Portland cement to manufacture its molded planks. Like most fiber cement, it uses a mix of silica and sand in the blend to keep it stabilized. James Hardie gives its customers a 30-year warranty.

Allura, on the other hand, has an industry-leading 50-year warranty and uses cellulose fibers, sand, silica and Portland cement.

The finish on Allura's pre-painted siding is also guaranteed for 15 years, up to 3 times longer than you can expect a typical on-site paint job to last. And that's in addition to the 50-year warranty that you also get on the actual fiber cement panels.

The reviews of satisfied customers for Allura prove that it's impervious to most issues that affect other sidings such as cold, heat, insects, fire and moisture.

Feel Confident With Allura
We want you to be completely confident in your fiber cement siding choice for your next building project.

In our opinion, Allura is the clear choice if you want a durable, protected home exterior. But you don't have to take our word for it; the numbers speak for themselves.

Allura offers more pre-painted color options for every single product, has more shake and shingle options, offers more material types for trim, has a more durable finish for all pre-painted products and comes with a 20-year LONGER warranty on our fiber cement. Why get a 30-year warranty when you can have a 50-year warranty?
If you are interested in learning more about Allura and what we can do for you with our high-quality products and customer-first service, contact us to be put in touch with your local sales representative.