Fresh paint can revitalize a classic ranch house and give it a fancy face-lift. Don't botch the job by picking outdated color schemes! Stick with these 8 trendy ranch house paint colors to create a facade that feels fresh and classy all at once.
Classic Ranch House Exterior Styles
Ranch houses are characterized by their size, shape, and height. Popularized in the sixties and seventies, they are simple structures that have timeless appeal because of their modest layout and charming features – which is why modern homeowners seek them out. With fresh siding and a few modifications, ranch houses are easy to remodel using current exterior trends.
Ranch homes were originally designed to meld with the surrounding landscape in order to create a comfortable and inviting space, so it's not uncommon to find a ranch house on a beautiful piece of land. They are often built in harmony with hills and slopes, and many feature walk-out basements as a result.
A standard ranch house has a single story with a rectangular footprint in which the width is greater than the depth. In other words, the front-facing wall of the house tends to be elongated, with the entryway placed near the middle. Because the front of the ranch house is so large, the exterior siding and features are fundamental in creating curb appeal. Choosing the right siding paint colors, textures, and trim pieces can make all the difference.

8 Trendy Ranch Style House Exterior Paint Colors
Certain color combinations are better suited for ranch house exterior styles than others.
Take a look at some of the most exciting paint color schemes that are currently hitting the market and making ranch style houses steal the spotlight:

Ranch house architecture veers away from the ornate and strikes a more comfortable tone that feels approachable and down to earth. Beige is a classic when it comes to generating a welcoming ambiance. Since beige is a fairly calm color, you can keep things interesting by dialing up the texture. Instead of outfitting the ranch house with smooth beige lap, try beige shake or stylized trim for a more modern feel.
Green looks gorgeous on ranch style house exteriors, but the secret is in striking the right tone. Dusty, muted greens like olive and sage tend to appear more mature than bright green paint colors. Paired with a white or tan trim, soft sage siding can create a sophisticated look for a classic ranch house exterior to express an on-trend aesthetic.

3. White with Bold Skirting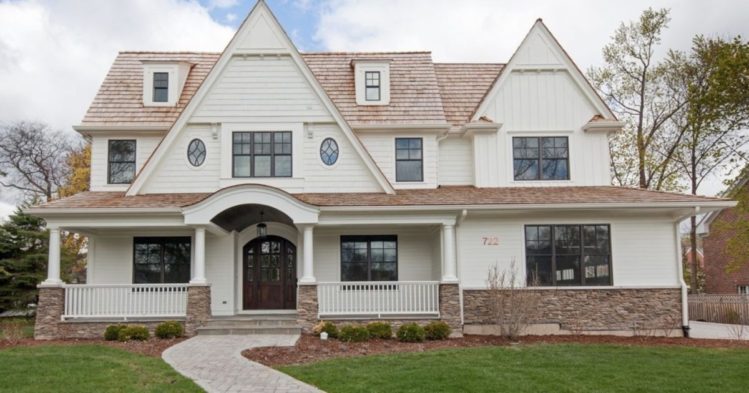 White siding is great for communicating a contemporary aesthetic, but it needs to be partnered with coordinating details. By itself, a white exterior can fall flat. Add decorative skirting at the base of the ranch house – perhaps a brick-style facade, stone veneer, or contrasting texture – to dress up the exterior and give the home a polished look.

4. Blue Tone with Black Trim
Blue exteriors are wildly popular right now. Similar to green, the undertone can make or break the look. Surprisingly, blue on a ranch style home can go either way - light or dark. Thankfully the photographer here caught this home on a bluebird day, showing the pop this light shade of blue can have against a blue sky, like the open prairies.
But don't forget about the dark side of blue! Dark, inky blues that veer toward gray are great for capturing a luxe aesthetic that still feels trendy and fresh. Instead of white trim, go with black to level up the look and add sophistication to the color scheme.

Red siding with white trim has a familiar feel to it, which is why it works well for any architectural style – including ranch homes. Reminiscent of popular farmhouse exterior trends, this particular color combination has a bright appearance that catches the eye. Try adding white shutters to break up the long facade of the ranch house and add dynamic contrast.
6. Classic Wood-Look Brown
The look of wood just never goes out of style, and certainly not with a ranch style home. Here we find multiple shades of brown across trim and siding, including a mixture of rustic shake siding on the second floor and traditional lap on the first floor. Combined with a brown matched wooden railing perimitering a wrap-around porch, this may be ranch house heaven.
7. Neutral Palette with Depth and Dimension
Neutrals never go out of style! Beige, camel, taupe, cream – these are the color choices that you can mix and match easily on the outside of a ranch house to achieve a classic look that feels fresh and modern. Adding more than one neutral color helps break up the long front-facing wall that's common with ranch houses for a more dynamic appearance. Beige shutters provide awesome contrast against cream-colored siding, and vice versa.
8. Cool Gray with White Trim
Gray is another color choice that works well for trendy ranch style house exteriors. There are many shades of gray to consider, and cool grays – those that are lighter in tone with subtle blue saturation – tend to have a more modern feel. Cool gray paint colors look amazing with white or black trim which can add instant definition.

Find the Best Ranch House Siding with Gorgeous Color Clarity from Allura
Allura has crafted the perfect siding selections to achieve beautiful ranch style house exterior paint colors – no paint needed! Pre-finished in the factory, Allura siding is intentionally designed to offer premium color clarity that lasts.
Curated colors like Iron Ore and Black Fox are perfect for getting that beautiful brown-black tone, while Toile Red, Downing Slate, and Niebla Azul are ideal shades of red, green and blue to enhance the ranch house exterior with attractive color.
Plus, a variety of textures – including smooth lap, wood grain lap and shake – allow you to get creative when adding dynamic designs to your ranch house exterior.
Ready to remodel your ranch house? Allura makes it easy! Contact Allura today to explore a variety of siding products that are perfect for modern ranch house exteriors.